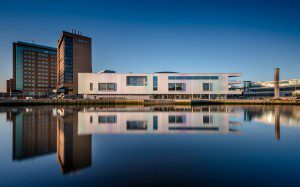 Three UK architectural practices have announced that they are to form a new Alliance in a bid to win new business.
Stride Treglown, Keppie Design and Todd Architects will join forces under the name 431 Architecture and will offer clients access to 18 studios and a staff of over 500, covering the UK and Ireland.
The venture is not a merger and all practices will continue to operate independently, but will work together when there is an opportunity to.
The venture's name is derived from the four countries it covers, the three established architectural practices and their one ethos "to deliver an excellent, responsive, approachable and people-focused architectural design service", according to a spokesperson.
David Hunter, Chairman of Stride Treglown, said, "We are really excited about the prospects for this venture. Each of us has a strong and established reputation in our own right, but our approach and values are very similar, so together this Alliance has the potential to become a really significant presence in UK architecture."
Martin English, Director at Keppie Design said, "We believe that 431 Architecture will open up a new range of business opportunities for us, allowing us to share knowledge and expertise and pool our resources. The Alliance will give Clients, consultants and contractors a new and exciting option to consider when looking at UK-wide projects or frameworks – particularly in the healthcare and education sectors where each of the three practices has a fantastic track record."
Paul Crowe, Director at Todd Architects added, "The potential for 431 Architecture is to build on the collective expertise and knowledge of our respective practices. Anyone working with 431 can expect design excellence and a responsive local service from a team of very experienced, approachable and talented people who share the same vision and cultural approach. I am really looking forward to developing this Alliance, which I strongly believe will help all three practices to grow and diversify."