SWING doors from GEZE UK have helped create an elegant entrance to a centre in Oxford which aims to help people affected by cancer.
The Patricia Thompson Building for Maggie's Cancer Centre has been designed around a treehouse-inspired idea, with the aim of providing an "oasis of calm amongst the trees" for anyone affected by the disease.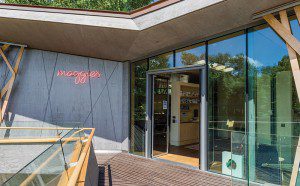 The centre, which was designed by architect Wilkinson Eyre, is built on stilts and visitors approach the main entrance via a land bridge.
GEZE UK supplied a pair of integrated all-glass system (IGG) swing doors, each powered by a TSA 160 UFO underfloor operator.
GEZE said, "The IGG system was specified because the profile and fittings are integrated invisibly between the panes of glass so there are no bulky or visible elements on the surface of the glass.
"At the same time, the TSA 160 UFO is concealed under the floor meaning that neither the operators nor the doors detract from the overall design of the centre, which thanks to its expansive glass facades gives panoramic views of the trees throughout.
"The TSA 160 UFOs are tamper proof, easy to maintain and virtually silent in operation and can operate door leaves of up to 120kg in weight.
"The doors feature a push button for accessibility and a solenoid bolt lock to control who can access the building for security reasons. Whilst the bolt lock itself is industry standard, it is unusual for it to be fitted with an all-glass system/IGG door system."