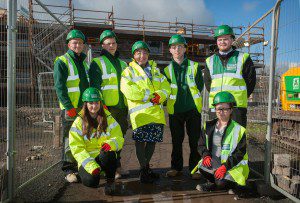 Annabelle Ewing, MSP met with the next generation of Scotland's construction industry as she visited a GRAHAM Construction site as part of Scottish Apprentice Week.
The Minister for Youth and Women's Employment, spent time at the Royston Care Home site, speaking with some of GRAHAM's young female apprentices.
One of the young apprentices Ms Ewing spoke with was 20-year-old trainee site manager, Karen Jeffrey, who first worked on the Royston site in September last year. Karen pursued her apprenticeship after spending two years at university studying surveying. She decided that she wanted to take a different path and contacted CITB who informed her of the apprenticeship option.
Ms Ewing said, "More than 190,000 people have taken up a Modern Apprenticeship since 2007. The success of the programme and the enthusiasm from those who have gone through it – both apprentices and employers – has seen us increase the annual target and we are committed to doing more to achieve our ambition of having 30,000 MAs a year by 2020.
"I am delighted to visit GRAHAM Construction as part of Scottish Modern Apprenticeship week to see how the company supports career development of staff. Construction is hugely important to our economy and we are working closely with industry and other partners to look at how we ensure it has the staff it needs to continue to grow.
"I am particularly interested in hearing the experience of the young women apprentices and their views on the role dealing with gender imbalance in the workforce can help deal with skills shortages."
Neil McFarlane, GRAHAM Construction regional director said, "It is an honour to welcome Annabelle Ewing MSP to one of our construction sites, giving her the opportunity to experience first-hand some of the work we are carrying out across the country.
"Apprentices play a vital role in the company's overall operation, contributing immensely to current projects while bolstering the foundations of its future workforce.
"We place a huge focus on recruiting young people, giving experience of working in the construction industry, earning while learning. Getting this experience and being given a permanent job at the end of the process is a massive boost to any school-leaver's career.
"Our overall goal is to further increase the number of apprentices and young people employed by the company, building on the 14 per cent of the current workforce which are enrolled in learning schemes."
GRAHAM Construction is a member of the '5% Club', an organisation made up of companies committed to ensuring that 5% of their workforce over the next five years is comprised of young people on structured learning schemes.
The company has also established their own GRAHAM Academy, which has already enrolled over 100 young people. The aim of this entry level programme is to get young people into the construction industry and tackle the skills shortage.