Those living near the coast are lucky enough to enjoy beautiful views, but the environment can have serious consequences for their homes. Last year, the Shetland Islands battled with very severe winds, which proved costly for some residents and landlords whose roof tiles blew off. Here, Mike Leigh, from Decra Roof Systems, part of the Icopal group, goes over the solutions available to both existing residents and those thinking about moving to a coastal area, where air borne salt can prove to be corrosive to some roof systems.
In an average environment, traditional roofing products, such as slate or concrete tiles, are often specified in order to achieve a particular look. In the past, they were often installed partly relying on the dead weight of some of the tile courses to help hold them in position. The extreme weather that Scotland has suffered for many years has shown that relying on tile weight and mortar is not enough to protect the building from these more frequently seen weather conditions. For severe weather conditions in corrosive coastal regions a more hardy solution is required, such as that offered by modern lightweight steel alternatives.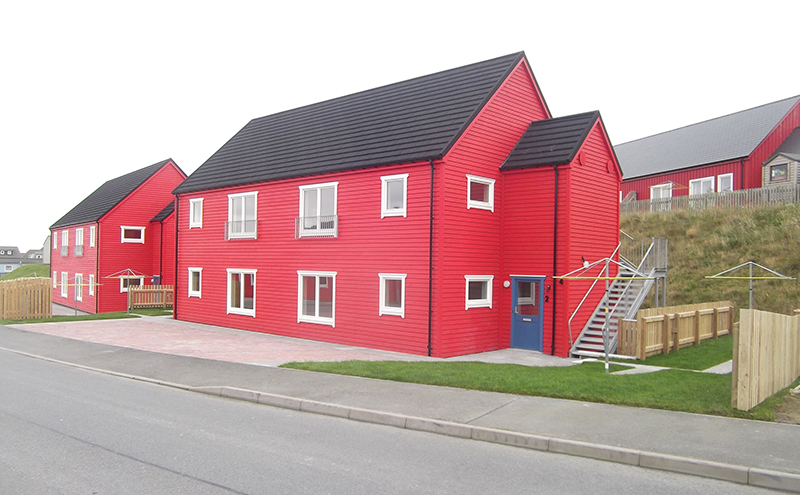 The increase in our severe weather is the reason that the code of practice for installing traditional roof tiles (BS 5534) was amended to take effect from March last year. It is now mandatory to fix every tile on every course, with additional clips and fixings required on the perimeter tiles. Mortar is no longer deemed to be a sufficient bonding agent to keep ridge tiles in place, so now they must all be mechanically fixed.
A standard lightweight steel roofing system is designed so that fixings pass through the overlapping nose and tail of the tiles into the roof batten underneath, this process ensures that all tiles are fixed top and bottom to give greater wind uplift resistance.
Understanding the conditions Scottish customers face in particular, some manufacturers have responded by launching products designed specifically for areas like Shetland. For example, Decra Roof Systems by Icopal developed a bespoke product for Hjaltland Housing Association's Hillock and Hoofields developments in Shetland. The system included the addition of a double layer of acrylic and epoxy base coat to the underside of the tile. This specially-designed tile is then installed at the eaves course of the roof where the underside is exposed to the elements. The extra coating prevents any corrosion occurring at the most vulnerable point and provides greater durability in harsh weather conditions.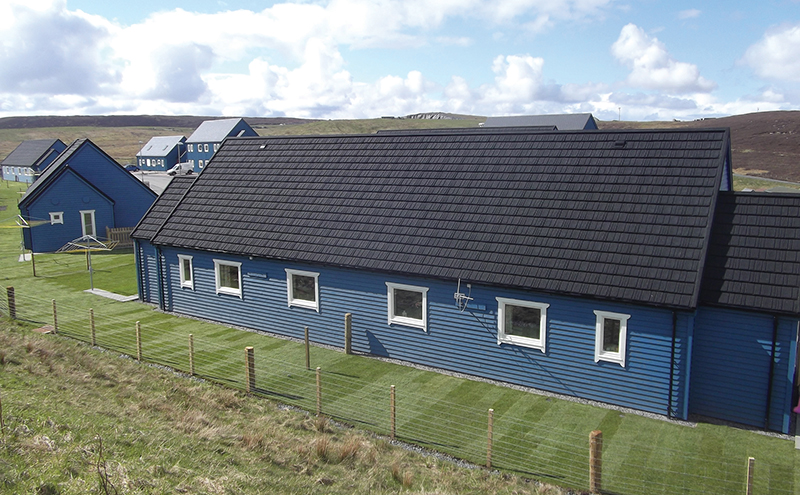 As moss is also a common problem in Shetland and other coastal areas, Decra's special anti-moss system was specified to give additional protection. This system aims to keep the roof moss free for the lifetime of the tile and keeps it waterproof and windproof.
By choosing tiles that are fixed top and bottom throughout and contoured to provide a strong and interlocking roof covering, roofs can better withstand low temperatures, high wind speed and severe, corrosive salt spray. However, a pleasing aesthetic need not be sacrificed either. The tiles are designed to mimic traditional tiles in looks, and will perform extremely well against traditional tiles and slates when it comes to robustness and weather security. As well as providing an attractive watertight roof finish, the Decra system can be installed at significantly lower roof pitches than traditional coverings.
Efforts must also be made to reduce condensation beneath roofs to ensure maximum protection against moisture ingress. This can be done with the use of breathable roof membranes and ventilation at both the eaves and ridge of the roof to allow for a free flow of air beneath the roof system.
Beyond the building materials, those planning on building in a coastal environment like Shetland should consider working with the landscape, rather than against it, to make the most out of nature's barriers. A Low Carbon Economic Strategy for Scotland mentions that planning should be designed to shelter buildings from adverse weather conditions. Not only will the building visually sit within the landscape better, but this also avoids unnecessary exposure to severe weather. However, even buildings in coastal areas that are in sheltered locations will still suffer from the corrosive action of salt spray, so the right roofing system will provide decades of protection.
By taking all of these considerations into account, both prospective and existing residents, landlords and housebuilders can ensure their buildings are prepared and protected for the harshest of weather conditions, salt spray and moss growth.