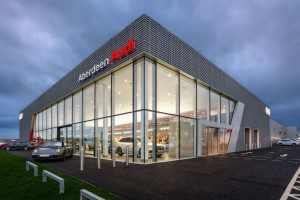 ROBERTSON has expanded its showroom business by landing a third contract to develop an Audi Garage in Dundee, on the back of delivering two car showrooms for John Clark Motor Group (JCMG) in Aberdeen.
The first contract secured with the Motor Group was to construct the £5 million Nissan and MINI dealerships within the Balmoral Business Park in Aberdeen in 2014. Following its completion they went on to develop the £9 million Aberdeen Audi showroom, one of the biggest in the UK.
Keith Taylor, regional managing director of Robertson Eastern said, "The team has become highly experienced in delivering high-specification car showrooms working to the highest, exacting standards imposed by the car manufacturers."
Robertson said Audi design and brand standards mandate the "very highest precision and quality" for all finishes. The modern facility includes a curved feature wall, unique mesh effect over-cladding and curved ceilings.
The main showroom has space to display over 20 new models under a specially designed lighting system as well as staff offices and storage facilities. The showroom also has two customer lounge areas and a children's play area. A separate building on-site can house 12 used cars.