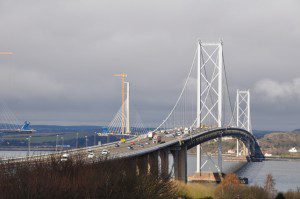 MCLAUGHLIN & Harvey (McL&H) has commenced work on a new warehouse facility in South Queensferry for Amey, the contractor currently on site maintaining the Forth Road Bridge.
Amey, commissioned by Transport Scotland, appointed the Glasgow office of McLaughlin & Harvey as main contractors of the new South Anchorage storage and workshop facility. The buildings will act as a "core facility for storage, maintenance and repair" of the Forth Road Bridge.
The project. expected to be completed by the end of June, includes the delivery of a storage building, two maintenance workshops and a welfare facility. The complex will sit on the banks of the Firth of Forth.
Paul Griffen, construction director at McLaughlin & Harvey said, "We have a lot of experience delivering high quality industrial warehouses up and down the country. As a Scottish company, we're proud to be a part of a project as prestigious as the Forth Road Bridge which plays a huge role on the Scottish economy. We will be seeking to work with local suppliers and subcontractors wherever possible on this project in an effort to support industry in the area."
Mark Arndt, Amey's operating company representative for the Forth Bridges Unit added, "This new facility is being built to replace and improve on the old warehouse that had to be demolished as part of the anchorage investigation in 2011/12. It will provide a functional and resilient facility from where we can deliver our operational and maintenance services."