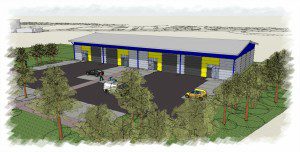 FALKIRK Council has started construction work on four new industrial units at Abbotsford Business Park in the town at a cost of £1.3m.
JB Bennett was appointed as the design and build contractor and has started the construction preparation works, including establishing the site and its boundaries and starting to lay foundations.
The units are due for practical completion in August, providing a "welcome boost" to the area's industrial and logistics market. The units have insulated roof panels and galvanised steel cladding. Falkirk Council said an EPC B rating is expected to be achieved. There is also a service yard, five dedicated car parking spaces per unit and ten visitors spaces.
Abbotsford Business Park was formerly a British Aluminium works. Whilst the park overall is owned by Scottish Enterprise, Falkirk Council purchased the development site for the units in 2015.  After receiving assistance from European Regional Development Funding, Abbotsford Business Park was cleared, remediated and new access routes and services provided.
Councillor Dennis Goldie, economic development at Falkirk Council, said,  "Through our property strategy we've identified the need for new high quality facilities that we know are in demand, so it's with confidence we're investing in this new development. With Abbotsford specifically we want to create a successful business park that enables us to attract commercial and industrial tenants, and therefore jobs, to the local area."