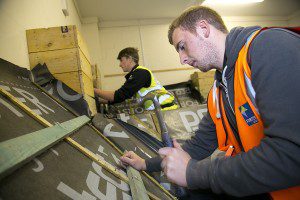 FORSTER Roofing's second tranche of six apprentices have successfully completed the offsite training part of a new Modern Apprenticeship (NVQ) qualification in Roofing, developed specifically for new-build housing.
The apprentices, who come from a range of locations across Scotland, received their certificates of achievement from Forster Roofing Construction Director, Neil McIvor.
In the face of industry-wide skills shortages, Forster last year launched its own in-house Skills Academy that takes training into its own hands. Pioneered by Maureen Douglas, Group HR director, the two-year training programme combines on the job structured learning with contextualised offsite training at Forster's training centre in Brechin.
Maureen Douglas, who is also a Board member of the Construction Industry Training (CITB) said, "To address the shortage of suitably skilled trades, we created the specialist modern apprenticeship with other roofing contractors supported by the National Federation of Roofing Contractors, CITB and South Lanarkshire College.
"We deliver the specialist apprenticeship from our own Skills Academy in two week residential blocks. This allows our full-time trainer to embed the Forster standards of workmanship and enable the apprentices to complete their offsite training together. The programme has already been a resounding success and is being developed further to enable the up skilling and re-skilling of experienced workers."
In 2015 Forster Roofing took on a total of 12 Modern Apprentices through the newly built Academy. With a further 12 apprentices to be taken on this year, the company is on-track to achieve its target of recruiting 24 apprentices before the end of 2016.