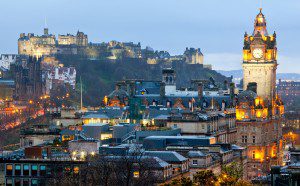 NEGOTIATIONS on the £1 billion City Region Deal for Edinburgh and South East Scotland are to begin, Chancellor George Osborne announced in his Spring Budget.
The news on the Deal – comprising the City of Edinburgh, East Lothian, Fife, Midlothian, Scottish Borders and West Lothian Councils – has been warmly welcomed.
City of Edinburgh Council Leader Andrew Burns said, ''We are delighted with the Chancellor's pledge to develop a City Deal for our region and welcome the opportunity to continue our engagement with both the UK and Scottish Governments.
"We submitted our proposals in September 2015 and remain as determined as ever to negotiate greater fiscal powers and funding towards strategic housing, transport and infrastructure to help the region to become the most connected, creative, inclusive and innovative place in Europe.
"This commitment from Westminster is a step forward for our proposals to tackle inequality and accelerate substantial economic growth."
Fife Council Leader, David Ross, added, "This is fantastic news for Fife and its partner authorities across Edinburgh and the South East of Scotland.
"This commitment from Westminster is a huge step forward for our proposals to tackle inequality and accelerate substantial economic growth across the region. This is something we have been working towards for nearly two years now, and I'd like to pay tribute to the hard work of those involved from the local authorities and all the public and private sector organisations that have supported us to get to this important stage.
"Through a shared vision the local authorities involved are set to create new ways of doing things. This will give the Edinburgh and South East Scotland City Region greater autonomy and decision making powers, as well as increase opportunities for learning and development and investment in infrastructure.
"The City Deal is one of the most exciting projects that Fife Council is involved in, because it could be the biggest ever investment in economic infrastructure in the Edinburgh city region area – and Fife has a massive amount of potential investment riding on that."
Alasdair Humphery, lead director for property consultancy JLL in Scotland, was equally enthusiastic. "The City Region Deal is great news for Edinburgh and the south east of Scotland," he said. "With the region's population set to soar over the next five years, combined with both a shortage of both housing and office accommodation, this investment is crucial to helping the City region achieve its potential.
"Deployed effectively, it should help to create jobs, regenerate industrial sites, support new housing, as well as improving transport infrastructure, all of which is crucial to the economic development of the city and wider region. Delivering a deal that is fit for purpose will depend on a fully co-operative effort from the regional business community, ensuring that the funding is invested where's most needed."