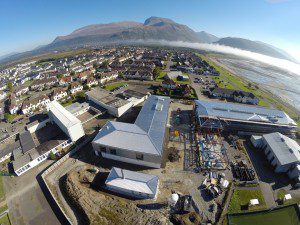 KIER Group plc has announced a "good" set of financial results for the six months to December 31 2015. Revenue is up 32% to £2.1 billion while underlying pre-tax profits rose 19% to £44.2 million.
The results have been boosted by the Scottish arm of the business, with offices in Glasgow, Aberdeen and Inverness employing around 200 people.
Brian McQuade, managing director of the Scotland and north-east England arm of Kier's Construction division, said, "I'm pleased to announce a good set of financial results today, which our Scottish and north-east England construction business has made a strong contribution to. We've performed well this year, increasing both our headcount and framework and tender wins and taking a proactive yet disciplined approach to growth, which has strengthened our market position and provided a strong pipeline of work.
"In the past 12 months we have cemented our position as a healthcare construction leader, particularly with the recent announcement of our £17m contract with NHS Grampian on a backlog maintenance project for Aberdeen Royal Infirmary. Our ongoing success as part of the £1.5 bn Scape National Minor Works Framework will see us work with NHS Greater Glasgow & Clyde on a number of projects during 2016.
"We have also increased our activity in the education sector over the past year. We are currently on site delivering several education projects across Scotland, including the £43m William McIlvanney Campus at Kilmarnock on behalf of East Ayrshire Council, the £25m Ayr Academy and the £35m redevelopment of Marr College for South Ayrshire Council, the £36m Garnock Campus for North Ayrshire Council and the £13m Caol Campus for The Highland Council.
"Our commitment to the Scottish construction sector also goes beyond our business operations.  We continue to provide local jobs to people within 20 to 40 miles of the contract postcode, supporting local supply chains, contractors and SMEs and offering training opportunities for the wider community."
Haydn Mursell, chief executive, said, "I am pleased to announce a good set of interim results which show the continued strength and breadth of the Group's capabilities and our presence in growing market sectors. The Group remains on course to deliver expectations for the full-year.
"In the UK, our core markets are improving which provides a platform for growth, particularly for our property, residential and regional building businesses, and over the medium-term for our infrastructure businesses. Mouchel has been substantially integrated and is performing well. Our presence in infrastructure services, regional building and housing aligns to growth markets with high visibility of forward pipelines and now accounts for 75% of the Group's turnover.
"We are encouraged by the robust pipelines in Property and Residential and the order books totalling £9bn in Construction and Services. We remain focused on ensuring that the Group is fit for growth by continuing to focus on our operational efficiency and continuing to manage risk closely. This discipline, combined with the resilience and flexibility provided by the portfolio of businesses in the Group, will continue to underpin our performance. We look forward to the future with confidence."