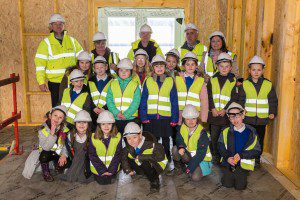 Housebuilder Bellway recently had a group of schoolchildren visiting their Caledonia View site in Cumbernauld.
The Primary 3 class from Condorrat Primary visited the site as part of a class project on houses and homes. During the tour, they saw how a house is constructed, what the different stages of the build are and how a plot looks once finished. They also got hands-on, building a small wall.
Teacher, Annemarie Steele, said, "The children thoroughly enjoyed the trip and looked just like little builders in their hard hats and hi-viz vests. They liked seeing foundations being laid and going inside a completed house but the main highlight was the opportunity to lay some bricks with cement."
Billy McCracken, site manager with Bellway Homes (Scotland), added, "Some of the girls in particular were fantastic at brick laying and it would be amazing if in 15 years time they were back with us as apprentices!
"I was so impressed by all of the children they really paid attention and asked lots of great questions. It was nice to see how excited they were watching the diggers and forklift trucks in action."
Head teacher, Julie-Ann Price, said that the trip has inspired some of the schoolchildren to consider a career in construction, "Some of the children told me they would love to be builders when they reach working age so the visit was a very worthwhile part of our World at Work project."