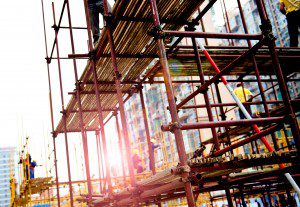 Scottish construction jobs rose by 13,000 in 2015 according to official figures published by the Office of National Statistics recently.
The rise saw Scottish construction employment figures reach a two-year high of 187,000 at the end of 2015.
Scottish Building Federation Managing Director Vaughan Hart, commented, "Clearly, we welcome the growth in industry employment recorded during the course of last year – a rise of 13,000 jobs in Scottish construction between the first and final quarters of 2015. It is worth noting that there are still almost 50,000 fewer people employed within the Scottish construction industry than was the case prior to the recession.
"Industry output reached a new record peak at the end of last year – but employment levels clearly haven't kept pace with this trend. A shortage of skills and capacity poses real challenges for future growth in the industry. We continue to press home the message that Scottish construction offers large scale employment opportunities and excellent long-term career prospects of which many more Scots should be encouraged to take advantage."
The news follows separate figures releases recently that showed output from the Scottish construction industry hit £14.5 billion, a new record peak, last year.