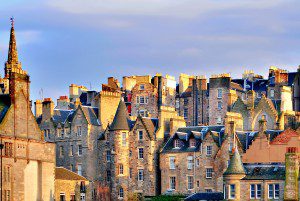 International investment in Scottish commercial property increased by 10% in 2015, despite  overall investments falling by £1 billion in the same year, according to research by JLL.
In 2015, £1.3 billion (59%) of commercial property investment into Edinburgh and Glasgow came from overseas, compared with £1.6 billion (49%) in 2014.
In the same time frame, the proportion of UK money invested in Edinburgh and Glasgow commercial property dropped from 51% (£1.6 billion) in 2014 to 41% (£900 million).
Key findings of the report included America's investment in Scotland spiking in 2015, accounting for 18% (£396 million) of all transactions, compared to 4% (£128 million) in 2014. Middle Eastern investment increased from 1% (£32 million) in 2014 to 7% (£154 million) and the office sector has been increasingly popular, accounting for 55% of volumes, increasing from 38% in 2014.
Chris Macfarlane, director in capital markets said, "As the depth of Fund buyer has thinned, pricing has softened and our key markets are looking like fair value. The vacuum left has been filled by a range of investors (particularly overseas), which is positive.
"Looking forward, we see the following themes; until there is more clarity on the political landscape, the UK Institutions will continue to be cautious on Scotland. Politicians – please take note, creating an environment of uncertainty does not help the commercial property market.
"Overseas Private Equity and High Net Worth Investors will continue to be prevalent in the Scottish market. Pricing at the prime end will hold firm, sellers of core plus and secondary product will need to price attractively to create any competitive tension."
Simon Merry, director of capital markets at JLL said, "2015 was the first year we saw international capital spend more in Manchester than domestic investors with particularly the German and Asian investors dominating the office investment market."