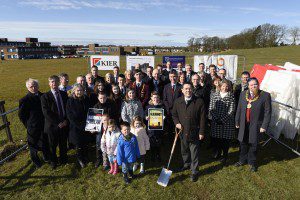 Work is set to begin at the new £45m William McIlvanney Campus at Sutherland Drive, Kilmarnock.
Named in honour of the prolific author who was born and educated in the town, the Campus will be provided by East Ayrshire Council through the Scottish Government's Scotland's School for the Future programme.
It will delivered through the Scottish Future Trust's hub programme by Hub South West, with Kier Construction carrying out the construction work.
The Campus will host the new James Hamilton Primary School and Early Childhood Centre and a new Kilmarnock Academy, after the merging of Kilmarnock Academy and James Hamilton Academy.
A third new school, Sgoil na Coille Nuaidhe, will offer Gaelic language provision and will replace the Gaelic Medium Education provision currently offered at Onthank Primary School and Grange Academy.
Councillor Douglas Reid, leader of East Ayrshire Council, said, "This significant and ambitious investment is great news for the young people and communities of Kilmarnock and is a great legacy for future generations.
"It will give our young people the best possible start in life and this new campus will ensure they have access to the kind of facilities and learning environments they need to succeed in school, work and in life
"William McIlvanney was passionate about the provision of good education for young people and, in just a week, work will begin to transform education provision in Kilmarnock and create an enduring legacy in his name.
"I'm certain Willie would have been delighted with what is being built and this fantastic campus will be fitting tribute to the man, his life and his work."
David MacDonald, hub Programme Director at the Scottish Futures Trust, said, "The hub programme is an innovative approach to develop and deliver best-value community facilities which provides public bodies with a quick, efficient and value for money way of getting their projects into construction and helps secure and sustain local employment.
"I very much look forward to seeing construction start on the William McIlvanney Campus very shortly and to seeing pupils being taught in modern, first-class facilities."
Brian McQuade, managing director of Kier Construction's Scotland & north-east England business, said, "Educational projects form a significant part of our commercial operations. We are not only pleased to be part of today's event alongside East Ayrshire Council, but also delighted to be undertaking further work with hub South West on what will be a leading educational facility for the people of Ayrshire, set to benefit future generations for years to come.
"The scale of the project at William McIlvanney Campus will see no less than 200 people on site during peak periods of activity, helping to support the local supply chain while providing employment and training opportunities for the wider community."