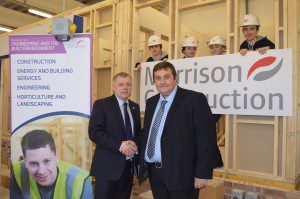 Glasgow Clyde College has announced a partnership with Morrison Construction that will allow students to gain on-site work experience and receive advice from those within the construction industry.
Morrison Construction will invite students to participate in visits to construction sites and take on work experience placements. They will also supply personal protective equipment for students.
Jim Johnstone, community skills manager for Morrison Construction, said, "We're delighted to be entering into this partnership with Glasgow Clyde College. The partnership will see opportunities for students to work with Morrison Construction staff from curriculum engagement to work experience placements.
"We are entering this partnership with a forward-thinking and innovative college, which allows us to focus on our ultimate goal of training and up-skilling a talented workforce for the future, not only for Morrison Construction but for the construction-related industries as a whole."
David Innes, director of Engineering and Built Environment at Glasgow Clyde College, said, "The biggest benefit of the partnership with Morrison Construction to our students is the work placements of up to four weeks. They will undertake a timetabled programme and will be given real tasks to work on and receive advice and guidance from some of the most able members of the construction industry."