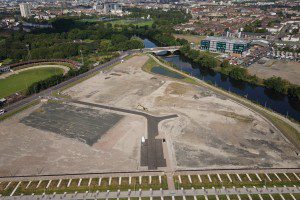 Clyde Gateway and BRE are launching a design competition, through a competitive PQQ and ITT process, to procure a contractor-led design team to build the new flagship office for BRE Scotland.
BRE Scotland is an independent, research-based, testing and training consultancy which offers expertise on the built environment and related industries across the UK and internationally.
The successful contractor will deliver a new office pavilion, which will become the Scottish headquarters for BRE at the heart of Clyde Gateway's Shawfield National Business District.
The site at Clyde Gateway is set to become Scotland's largest business site. BRE Scotland's new accommodation will be the "gateway building" for the Shawfield National Business District.
Once completed, the sustainable office will be an "innovative demonstrator" office building providing 6,000sqft of accommodation with a target of BREEAM Outstanding.
The tender has been published through the Public Contracts Scotland (PCS) portal. The deadline for returns to the PCS portal together with all supporting information is required by the deadline of 18th April 2016 at 12 noon.
Ian Manson, chief executive, Clyde Gateway, said, "Once developed, BRE Scotland's new headquarters will act as flagship for the Shawfield Business District and the calibre of both the client and scale of work required is the perfect illustration of the site's potential.
"Our developments are built with business in mind. Our sites comprise the very best in transport links, fantastic business facilities and an interlinking network of community groups, infrastructure, superfast broadband and cross-sector business support, making it the place to do business."
Shawfield is the largest commercial and industrial planning consent in Scotland and the 11th largest in the UK. With a total site area of 65 hectares, Clyde Gateway has made substantial investment in Phase 1 comprising 11 hectares.
£20m has been invested in the award winning site infrastructure and site preparation with the Smart Bridge providing direct access to Dalmarnock Station, which itself has benefited from £11m in investment.