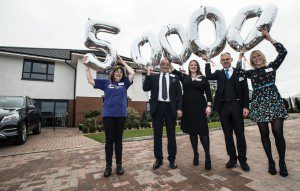 Housebuilder Mactaggart & Mickel Group has more than doubled its annual fundraising target for charity partner, Cancer Research UK (CRUK).
The company recently presented Rowan Main, CRUK, local corporate and community manager with a cheque for £50,000, more than double their £20,000 target, at the Castle Grove showhome opening event in Newton Mearns.
The money was raised by the company's staff through a range of activities including the Great Scottish Run half marathon and a range of 5k races such as Race for Life.
Rowan Main said, "We are thrilled that the partnership with Mactaggart & Mickel Group was such an amazing success, raising an astonishing £50,000 with the final generous £20,000 top-up being made by the Directors of the firm.
"Everyone involved should be very proud of this extraordinary achievement investing their time, effort and hard work to help Cancer Research UK beat cancer sooner.
"We cannot thank Mactaggart & Mickel enough for their wonderful fundraising, their personal commitment and dedication to help support the world-class research taking place here in Scotland, to help create more birthdays for more people, to help more families celebrate together."
Andrew Mickel, chairman of Mactaggart & Mickel Homes, said: "It's a great achievement that our team have worked so hard and donated so generously to present Cancer Research UK with a total which is more than double our initial target.
"This is testament to the dedication and team work shown by our staff who have really led the charge to make sure we raised as much money as possible for this great cause. It was also a great way to celebrate the end of our 90th year."