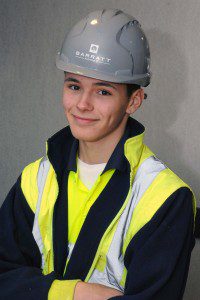 Housebuilder Barratt Homes has pledged to take on 20 new apprentices in Scotland this year, as part of its commitment to bridge the skills gap in the construction industry.
These new recruits lwill join the four-year Barratt Academy apprenticeship programme and support the organisation with over 1600 new homes this year, in a bid to meet increased demand that has been driven by Help to Buy scheme.
Douglas McLeod, regional director for Barratt Homes (Scotland), said, "As the UK and Scotland's leading housebuilder, we are committed to investing in the nation's young people to ensure that we've got the right skills in place to meet Scotland's ever-increasing demand for homes. That's why we have placed such great importance on developing our award-winning apprenticeship programme.
"The housebuilding sector has always offered a wide range of career opportunities for tradespeople, marketeers, management and more. But now, given the industry's skills requirements for the years ahead, as well as the enormous demand for new development throughout the whole of the UK, it presents a particularly lucrative platform on which young people can build a structured and rewarding career."
16-year-old Calum McKandie joined Barratt as an apprentice plumber seven months ago and is working at the company's development, The Grange, in Elgin, which offers a range of detached and semi-detached family homes.
He said, "The best thing about being an apprentice is that you get to learn a worthwhile trade and sought-after skills whilst working with a great team on site. No two days are the same and everyone gets on really well and supports each other.
He added, "I'd really recommend it to my friends as once you have a trade, the world's your oyster. You can work anywhere you want."