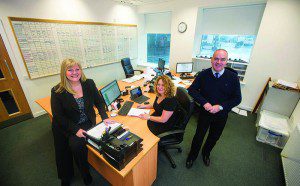 EXPANSION plans at Lanarkshire-based insurance reinstatement contractor Prater Contracts have gathered pace thanks to a six-figure funding package from UK Steel Enterprise (UKSE).
Prater Contracts was set up in 1997 by Stephen and June Prater. As an approved contractor for major insurance companies, the business offers building services for insurance claims.
The firm is currently involved in the refurbishments of homes affected by recent flooding in parts of Scotland and Cumbria, and has moved into larger premises and taken on extra staff.
UKSE, a Tata Steel subsidiary set up to assist growing companies in traditional steel areas, is supporting the business with an Enterprise Finance Guarantee (EFG) loan.
The funding has enabled Prater to buy a disused bank in Cleland and renovate the building into a custom-built, two storey office, complete with meeting rooms, a staff kitchen and parking facilities.
Since the move, the business has exployed four additional members of staff and an adult apprentice joiner who receives on-site training from Prater's team and attends college part time.
June Prater, director of Prater Contracts, explained, "The funding from UKSE has helped us a great deal. We had outgrown our previous office in Wishaw and needed more space to improve the running of day-to-day tasks.
"We are now in a great position to keep building on the reputation we've earned as a highly skilled workforce delivering quality work, on time and on budget.
"The UKSE loan application process was very straightforward; Anne Clyde was great, full of advice regarding our business strategy and well connected to an abundance of people."
Anne Clyde, regional manager for UKSE, added, "Prater Contracts is a fantastic example of a successful Lanarkshire company with potential for growth. UKSE's purpose is to help create jobs in areas affected by changes in the steel industry and Prater has already taken on five members of staff with the prospective to hire more.
"This is a strong and capable team, with high customer retention. Their reputation is flawless and I have no doubt the company will continue to bring in new and returning business for a successful 2016."