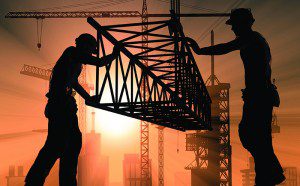 Jonathan Gaskell and Caragh Nimmo tell Project Scotland what steps organisations must take to comply with new legislation and ensure slavery and human trafficking is not occurring within their own business or in their supply chains
THE concept of slavery may seem an archaic one in modern day Scotland, yet according to a report published by the Home Office last month, 48 of the 1017 cases of labour exploitation referred under the UK's trafficking framework in 2014 were in the construction industry.
That equates to approximately 5% of reported cases of labour exploitation. Additionally, the UK Government issued a briefing note in 2014 stating that in 2013, 52 potential victims of trafficking in the construction industry were referred to the authorities.
Importantly, both the Home Office report and the Government briefing note include the caveat that the statistics do not reflect the true extent of the problem, given the hidden nature of slavery and exploitation.
The actual figures of those affected are likely to be much higher than reported.
As a result, the UK and Scottish Parliaments have recently passed legislation designed to tackle this exploitation. This legislation will have significant practical implications for certain businesses in Scotland, requiring active steps to be taken to ensure slavery and human trafficking is not occurring within their own organisation or in their supply chains.
MODERN SLAVERY ACT
Section 54 of the Modern Slavery Act came into force on 29 October 2015 and affects businesses operating in Scotland, or in any part of the UK, with a turnover in excess of £36 million.
These commercial organisations will now be required to publish an annual slavery and human trafficking statement on their website, detailing steps they have taken that financial year to ensure their supply chains are slavery free.
This obligation is of some magnitude; it extends to every tier of a company's supply chain and requires annual revision.
A critical commercial consideration for businesses operating internationally with multiple corporate structures will be whether to include only those businesses that operate in the UK, or whether to detail steps taken for related companies globally. Commercial and reputational concerns rather than the law will drive these decisions.
While the Act does not prescribe the content of the statement or the form it must take, UK Government guidance advises that it should be succinct and contain any steps the business has taken, together with links to relevant business publications or policies. If no such steps have been taken, the business must instead publish a statement to that effect.
The reputational risks to a business of making such a statement should not be underestimated. Consumers, investors and Non-Governmental Organisations may apply pressure to businesses that fail to take sufficient steps.
A director, member or partner of the organisation must approve and sign the statement. Businesses should publish these statements as soon as reasonably practicable after their financial year-end with the first businesses required to publish being those with a year-end of 31 March 2016. Therefore, some Scottish businesses now have only five months in which to take any steps that they intend to detail in their statement.
Businesses should also expect their own anti-slavery and human trafficking practices to be queried by companies with whom they contract, as these organisations seek to ensure transparency of their supply chains.
While not legally obliged to do so, there is nothing to stop Scottish businesses with a turnover of less £36 million publishing a statement. Such transparency will only serve to increase industry and consumer confidence in the commercial activities undertaken by that business.
HUMAN TRAFFICKING AND
EXPLOITATION (SCOTLAND) ACT
Scottish businesses should also be aware of the new human trafficking and exploitation offence contained in the Human Trafficking and Exploitation (Scotland) Act.
This Scottish Parliament Act reforms Scottish human trafficking laws and creates a new offence of recruiting, transporting, transferring, harbouring, receiving, exchanging or transferring control of another person with a view to that person being exploited. It is also an offence to arrange or facilitate any of these actions. Companies incorporated in the UK may be prosecuted for this offence in Scotland.
Directors and company secretaries should note that the Act specifies that they will be personally liable where a human trafficking offence is committed by their organisation with the officer's consent, connivance or neglect. Company officers must therefore be vigilant in ensuring these offences are not committed within their organisations. They may otherwise face personal prosecution should a human trafficking offence be committed within their company that they have been neglectful in investigating.
The Act requires the Scottish Ministers to prepare a trafficking and exploitation strategy setting out the actions, arrangements and outcomes considered by the Scottish Ministers to be appropriate in relation to the conduct. The strategy may also set out actions taken to raise awareness of conduct which constitutes an offence under the Act.
CONCLUSION
As a culture of corporate compliance grows with the new legislation, businesses operating in Scotland cannot afford to neglect to develop and review their policies for dealing with any form of slavery within their business or supply chain.
Carefully devised and implemented strategies for tackling human trafficking will secure significant benefits for organisations.
Not only will any risk of exploitation occurring within its business be minimised, reputational rewards stand to be reaped by businesses that recognise a social responsibility in dealing with this issue.
Jonathan Gaskell is a legal director and Caragh Nimmo is a trainee solicitor at global law firm DLA Piper's Edinburgh office.