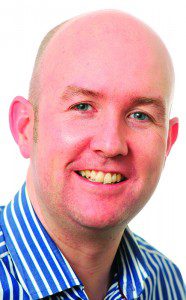 "NO such thing as bad publicity" goes the old adage. But for the construction sector, conveying the right image is increasingly critical.
Many companies don't give their reputation much thought. After all, order books are full and clients seem generally happy so why worry?
While true for now, most contractors also know from bitter experience how fierce competition for new business now is and how perilously thin profit margins have become.
Against that background, a little investment towards managing your reputation and promoting your achievements can go a very long way when it comes to winning your next contract.
Faced with a choice between a contractor who can actively demonstrate their credentials through regular media coverage and public recognition and one who makes those claims purely on paper, the decision for the client becomes a very easy one.
The issue of reputation doesn't stop at the front line of new business opportunities either.
One of the biggest issues industry employers now face is to find suitably skilled workers to work for them.
Faced with an ageing workforce and a chronic shortage of new talent, recruiting and retaining the skills your business needs to grow is a real challenge.
Ironically, statistics show that the average salary of someone working in the construction sector compares very favourably with other sectors of the Scottish economy, surpassed only by banking, finance and offshore oil and gas.
But preconceptions about the industry and career prospects within it have proved very difficult to shift. Careers advice in schools has come in for some sharp criticism from the industry in recent times. Some of it is entirely justified as politicians have sought to reduce the skills issue to a headline-grabbing apprenticeship numbers game.
Sadly, there is a lack of recognition for the superior quality of the four year indentured apprenticeship framework offered as standard in the traditional building trades.
In that context, measures such as the suggested introduction of foundation apprenticeships risk devaluing the qualification and real damage to the development of specialist construction skills.
At the same time, the tradition of local officers from CITB going out and regularly banging the industry drum in local secondary schools seems to be on the way out as CITB's remit adapts to new UK Government proposals for an apprenticeships levy on all large employers.
Hence, there is a growing expectation that building sector employers should be carrying out this missionary work themselves. What is more, your skills search will be that much easier if you can get in front of school pupils at an early stage and convince them why they should choose a career not only in the construction industry generally but with your company in particular.
Ultimately, it could mean the difference between having enthusiastic candidates approach you proactively about employment opportunities and having to go out and find those candidates, only to find they've already been put off a career in construction by their careers adviser – or worse yet, they've already taken an apprenticeship with a competitor that did take the trouble to come and talk to them in school when they were starting to think about careers.
What's more, once recruited, your workforce needs to know they're working for a company they can take pride in. Sustaining and promoting your company's reputation is equally important to maintain internal morale and get the very best out of your team.
More than many other industries, building sector employers frequently suffer from having their own reputations tarnished by the poor practice of a small minority of rogue traders.
Once again, making the extra effort to manage your own company's reputation can yield big returns with potential customers spooked by horror stories of botched jobs and bills spiralling out of control. At the sharp end, it could make the crucial difference between them going ahead with the work or putting it off for another day.
Whether to give you that crucial edge in the competition for new work, to attract and retain the skills and talent your company needs for the future or give customers the confidence they need to appoint you, managing your reputation and actively promoting your business has never been more crucial to future success.
Alex Bruce is a director and founding partner of Orbit Communications and specialises in construction industry PR.