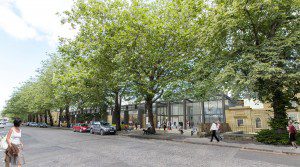 Robertson has been appointed to lead the redevelopment of Edinburgh sports ground, Raeburn Place.
The iconic site, which played host to the world's first international rugby match, is set for a multi-million pound redevelopment planned to include a covered 2,500-seater stand, a new rugby pitch, training pitches, a sprint track, gym, changing rooms, medical and physiotherapy rooms. A cricket field will also be reinstated, complete with practice nets, a surface draining system and upgraded floodlighting.
The development will also feature new function suites, a café bar, retail and commercial units and enhanced public space.
The development arm of the Raeburn Place Foundation selected the group's Robertson Central as principal contractor.
David Cairns, regional managing director of Robertson Central, said, "We are delighted to be selected as principal contractor on the redevelopment of Raeburn Place, which will transform this area of Stockbridge to the benefit of the entire community.
"This is a complex development with many different elements and it is a challenge we are well equipped to handle thanks to our extensive experience. We will work closely with the Raeburn Place Foundation over the coming months to deliver the design and look forward to starting work on site this summer."
David Newlands, chairman of the Raeburn Place Foundation, said, "This is an exciting moment for everyone who has been involved in planning for this project. We are delighted to have appointed Robertson Central to build new facilities at Raeburn Place.
"We were impressed by their understanding of the importance of our heritage and the community in delivering high quality, sustainable facilities that will enhance this important part of the city.
"Robertson Central has a great track record in delivering similar projects on time and on budget and we are confident that they will deliver for Raeburn Place."