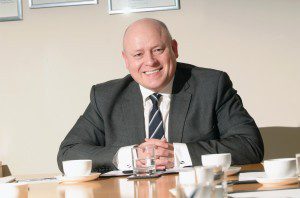 PROJECTED growth in the Scottish construction sector of just 0.5% annually over the next five years "doesn't tell the whole story".
That's the view of John Keenan, CITB's Local Manager for Scotland, in response to the recent research which states growth in Scotland will be only one-fifth of the average UK rate.
The latest Construction Skills Network (CSN) forecast from CITB recently revealed that housebuilding will replace infrastructure as the main driver of growth in Scotland's construction sector over the next five years. Both public (3.6%) and private (4.1%) housing are tipped to show "sustained and solid growth" during this period.
With large-scale projects such as the Queensferry Crossing, motorway upgrades and the Aberdeen bypass scheme set to be completed within the next five years, Mr Keenan believes the infrastructure sector is simply returning to a "more sustainable level" after record highs in recent times.
"Even though it looks like a marked decline, it always has to be taken in the context that (infrastructure) is at an extremely high level just now, so even in 2020 it will still be higher than what it was at any time since the early nineties," he told Project Scotland.
"The infrastructure sector isn't facing a dangerous and steep decline. It's still very much a strong sector and it will continue to be that. There are constantly projects coming in. You've got, for example, City Deals (which aren't yet included in the statistics) and there are other projects in the pipeline."
The research also revealed that the Scottish construction sector will need to find more than 21,000 new workers over the next five years – a figure Mr Keenan believes is "fair but quite manageable".
"We're always looking for opportunities to widen the talent pool within the construction industry, such as gender and ethnic minorities," he added.
"For the last three years, apprentices have been going up quite considerably," Mr Keenan added.
"Although it does seem like a large amount, you'll always get an outflow of labour. In terms of the construction industry, you get an outflow of labour such as retirement, sickness, migration, changing jobs, but equally you get an inflow as well, so these things have always been around and we've always responded well.
"There are certain occupations obviously we will have to focus on such as the technical professional sector and office and IT-based types of occupations, to name but a few, but there's ways we can do that. It's all about working with the industry, identifying where the skills needs are and then taking appropriate action."
A new web portal – www.goconstruct.org – has been developed to help people learn about career opportunities in the construction sector.
Ed Monaghan, chief executive of Mactaggart & Mickel Group, said, "The CITB's findings confirm what we have known for some time; there still remains a major skills shortage in our sector.
"With employment set to decline by 0.7% a year on average and Scotland still holding a significant annual recruitment requirement of 4,270, we will be feeling the full impact of this shortage in the years to come.
"The sector has benefited from a number of large infrastructure projects, such as the Queensferry Crossing and Aberdeen Western Peripheral Route, however, as they reach completion it is imperative that we work in a coordinated matter to re-deploy these skills into sectors of construction where growth remains strong.
"From our perspective it is positive to hear that housebuilding is set to be the main vehicle for growth in the sector over the next five years.
"We have already started to take up the mantle to help drive this with 14 live developments underway across Scotland and a busy pipeline of new sites to come.
"In order to meet this challenge, however, we will need to attract new entrants into our industry while at the same time improving our gender balance, to ensure that we can continue to deliver major housing projects quickly and efficiently."
Allan Callaghan, managing director of Cruden Homes West, added, "This report echoes what those operating within construction have long known – that housebuilding should replace infrastructure over the next five years as the key driver of sector growth. It has been shown during the last few years that the confidence felt within the industry is beginning to match up with market activity.
"I'm pleased to see this report recognises this, as well as outlining the importance housebuilding in particular is playing as a catalyst for ongoing sustainable growth.
"There is no doubt that with almost 21,000 new workers needed over the next five years, there is a huge skills gap to plug.
"If this issue isn't addressed head on, it will squash future growth opportunities within the sector which will be bad news for construction and the wider Scottish economy and the continued support to the industry through the CITB is very important.
"Now, more than ever, the onus is on all operators to recognise that real growth can take place over the next five years, but this relies on a steady stream of skilled, competent workers. While apprenticeship and training opportunities will go some way to address this, we can all do more to position the sector as an industry to be proud of; an industry which school and university leavers aspire to join from all genders, ethnicity and social backgrounds. If we can achieve this, we can support ongoing growth for generations to come."