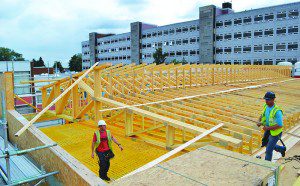 OCHIL Timber Products has announced the completion of a high-profile project for the new sports hall and changing areas at Perth High School.
The firm had a £326,700 contract for the "design, manufacture, supply and erection" of SpaceStud timber frame walls, and SpaceRafter and trussed rafter roof structures.
The design specified a hybrid steel and timber frame structure, with the main 35m x 20m x 12m high steel frame delivering the height and spans required for the sports hall, while "highly insulated" SpaceStud timber frame wall panels delivered the hall's energy efficient internal structure.
The changing areas were also built with 600m2 of SpaceStud for the walls, and SpaceRafter and trussed rafters were used in the flat and mono pitch roof covering this area.
Andrew McAree, managing director of Ochil,said, "The specification of SpaceStud enabled us to manufacture high-performance stud walls of sufficient length to fit snugly into the steel frame, and by using top-hung SpaceRafters for the roof over the adjacent changing rooms area, we were able to save the clients both time and money."
Main contractors Morrison Construction are also happy with the progress of the job and are  comfortably on schedule with the build programme.
For them, particular features of this build have been the tight, sloping site and the constraints of building next to an active school.
However their contracts manager confirmed "This hasn't been a problem, it's just the kind of thing we manage regularly on our sites."
The building itself comprises pad and strip founds; dwarf blockwork walls to even levels over 1/3 of the footprint; the steel frame; and then the internal timber frame, designed and erected by Ochil.
The roof of the hall and circulation space is flat steel and there is a flat and mono pitch SpaceRafter and timber trussed rafter roof over the rest of the building.
Morrison's Contract Manager added, "Ochil liaised directly with the architects on design and managed and delivered the timber frame element. As a supplier they know exactly what they are doing, which is why we've worked with them successfully for over a decade."
Project architect Matt Heaney of Glasgow-based HolmesMiller Architects said, "Ochil's specialist input was important as building next to a school in occupation meant we had lots of constraints on the site, and planning restrictions on height meant that all the services for the sports, changing and classroom facilities had to be contained within the SpaceStud frame system."
In the event the SpaceStud frame and roof elements went up quickly. "It was", confirmed Mr Heaney, "a very smooth process."
The sports hall has been designed to host events at competitive level and will provide a resource for both the school and the surrounding community.