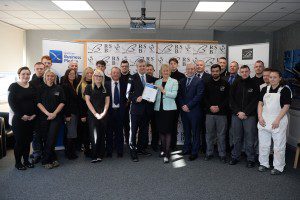 CITY Building has earned a prestigious accreditation for supporting and developing young workers.
Roseanna Cunningham, Cabinet Secretary for Fair Work, Skills and Training, presented the Queenslie-based firm with their Investors in Young People (IIYP) Gold accreditation, which is the highest level a company can achieve in the IIYP framework.
City Building said it achieved the certification for its commitment to deliver "industry-leading" training at its centres Queenslie College, Laurieston Construction Skills Academy and the learning centre at the company's supported employment facility, Royal Strathclyde Blindcraft Industries (RSBi).
Roseanna Cunningham said, "I am very pleased that City Building have signed the Scottish Business Pledge and achieved their gold Investors in Young People Award. These landmarks clearly demonstrate that they are fully committed to both developing their young workforce and promoting a fair an equal workplace. They already have a very strong track record on apprenticeships and I am sure both the firm and their trainees will benefit from such dedication."
City Building chair, Councillor James Adams, added, "We are proud of City Building's long standing commitment to support and develop the workforce of the future, giving them the skills, experience and determination they need to succeed. That our managers have been singled out for the first class training and support they provide to our apprentices is a noteworthy achievement in itself. They go above and beyond what is expected and this demonstrates that the company's commitment to excellence is embedded throughout our entire workforce."