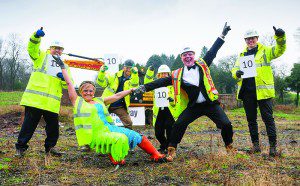 MULTIVISTA'S Alan Bryant is swapping his safety boots for dancing shoes as he takes part in a ballroom dancing event to raise funds for the new Prince and Princess of Wales Hospice in Glasgow.
A Little Less Strictly Come Dancing takes place on 5 March at the Hilton Glasgow and will feature six participants from the world of business, paired with professional dancers, vying for the Glitter Ball Trophy. The event will feature a guest judge in the form of BBC's Strictly star Gleb Savchenko.
Alan said, "I've been working with the hospice for many years in different capacities and this year I've put myself forward to help them raise funds for the brand new hospice. I've actually been to the event a couple of times as a guest and it is one of my favourite events to go to because it's such good fun. They have some of the dancers from Strictly on the night as well so it's a real star-studded ball to go to. I'm not saying I'm a dancer by any means, but I thought this would take me out of my comfort zone."
The hospice is moving to a new purpose-built site in Bellahouston Park, having outgrown their existing facility at Glasgow's Carlton Place.  Alan, who co-founded the first UK franchise of Multivista, an organisation that provides construction photography, webcams and video documentation, has gifted the hospice a webcam to capture the build process from start to finish.
"They're spending upwards of £20 million to develop this brand new hospice and we were saying it would be great to have a complete record, a time lapse from start to finish, to show people how it's gone from what is literally a field at the moment, to completion," Alan explained.
Alan has been paired with professional dancer Maria Oakes, a previous event winner, who is organising their routine. "Maria's been brilliant, we have an absolute laugh," said Alan, whose kids are "mortified" at the prospect of their dad dancing. "This is our third week rehearsing so we've got our routine mapped out. Now we just have to tighten it right up. We're doing the samba to a Michael Bublé track – it's a great fun routine. There are a few lifts and a few acrobatics as well."
The 'A Little Less Strictly Come Dancing' participants are judged partly on their fundraising efforts prior to the event itself and their performance on the night. A Strictly poker night in Alan's local tennis club and a 'Cava and cakes' afternoon organised by Alan's wife Fiona should help swell the coffers.
"I've targeted between four and five thousand pounds so, fingers crossed, if we could get that, it'd be great," Alan said. "It's all about raising funds for the new hospice as they've still got some funds to raise… but it's an ongoing process to keep the Hospice running and they're always running fantastic events like Not So Strictly Come Dancing."