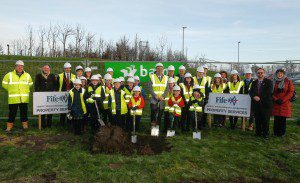 A symbolic 'ground breaking' ceremony recently took place at the new Waid Academy and community hub site in Anstruther, Fife.
BAM Construction is delivering the £21.5 million project, partly funded by the Scottish Government. Construction is already underway and the new building will incorporate community services within the ground floor and the school within the upper two levels. Erection of the steel framework is currently in progress.
Council leader, David Ross, speaking at the event, said, "I'm so pleased to be here, to see how work is progressing and to meet some of the young people who are going to benefit from this outstanding new building.
"The Waid will be so much more than a school – it will be an asset the whole community can benefit from.
"The community hub concept is a new way of making the most of our assets to the greatest benefit of all. The building will incorporate a range of facilities and organisations under one roof which will include local services, a library and – for the first time in any of our buildings – police services."
Martin Cooper, construction director Scotland at BAM, added, "We've undertaken fairly extensive ground works and are working on laying a new rugby pitch.
"However, it's good to now see the shape of the building coming together and the pupils can get a better idea of the size and the scale of the school. "
Minister for Learning, Alasdair Allan, said, "I'm delighted I could be part of the ground breaking ceremony for Waid Academy which marked an exciting milestone for the new school and community hub.
"The Scottish Government has worked closely with Fife Council to help improve its school estate and I'm pleased we could provide around £11 million in funding towards this project through our Scotland's Schools for the Future programme.
"This is an ambitious project, which will provide a modern environment for pupils to learn in, and fantastic new facilities for the whole community to enjoy.
"I look forward to seeing the school when it's finished next year."
Head teacher, Iain Hughes, said, "We are all so excited to see the progress made on our new learning facility for the East Neuk. The Waid Academy has always played a central role in community life in the East Neuk.
"We pride ourselves on providing our young people with an excellent education, and helping them to become valuable members of the community. This new building will be an exciting environment for both daytime and lifelong learning for the school and for the whole community."
Waid Academy is one of six secondary schools and two primaries that comprise Fife Council's Building Fife's Future Programme, worth upwards of £250 million.
The project is to be delivered by 2017.