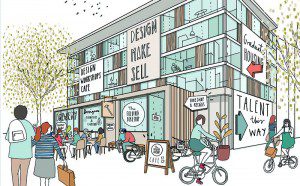 DUNDEE'S £1 billion waterfront regeneration project has achieved another significant milestone with the appointment of a preferred development partner for an important aspect of the plans.
Our Enterprise has been chosen by the council for a £20 million investment into the development of Plot 2 of the central waterfront, which includes the creation of a new city square and a design and innovation quarter inspired by the V&A museum.
Founder and CEO of Our Enterprise, Matthew Bell said, "We are a young, innovative development and regeneration company with a difference.
"We care about delivering projects with a social return and the highest levels of economic and environmental sustainability. Dundee's vision for the waterfront is a perfect match for us and we are thrilled to bring our investment, energy and drive to this groundbreaking project."
Two new city blocks designed by architects HTA Design LLP will include office space, apartments and 'Design, Make and Sell' units, aimed at attracting creative businesses to the area.
One of the blocks will offer "small, flexible spaces" for entrepreneurs growing businesses from start-ups.