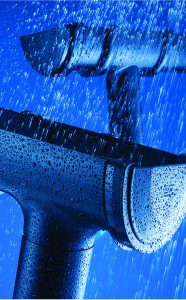 AS rainfall intensity and frequency continues to rise each year, it is vital that rainwater drainage systems have the capacity to protect a building and its contents.
The new Deepstyle 170  rainwater system from Brett Martin Plumbing & Drainage is said to combine increased drainage capacity with design flexibility to provide "reliable, effective and efficient" drainage for large commercial, industrial, agricultural and residential roofs.
Developed with a 170mm profile to accommodate the increased volumes of rainwater on large roof areas with a capacity of 11.54 litres per second, the new Deepstyle 170 system is described as requiring fewer discharge points, reducing the number of downpipes to provide both material and installation savings.
The system also features "new and innovative" factory fitted CLIP & SEAL technology on all fittings to ease installation and provide long-term sealing reliability.
The CLIP & SEAL fully integrates with the fitting so that the specially designed captive seal is held securely within the fitting whilst the clip locks the seal firmly in place.
"Combining an efficient installation with exceptional reliability and increased capacity, Deepstyle 170 perfectly complements our existing range of rainwater systems," said Hayley Lowry, Brett Martin marketing manager.
"With continued investment in product research and development, our range satisfies every variety of roof drainage from the smallest domestic property to much larger agricultural and commercial buildings."