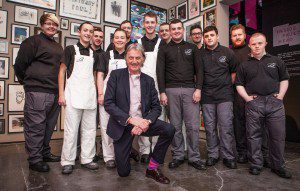 A group of young apprentices from Scottish construction firm, City Building, has helped set up the latest fashion and design exhibition from British designer, Paul Smith.
The thirteen apprentices worked on customising space at The Lighthouse, Scotland's Centre for Design and Architecture, in Glasgow, for the "Hello, My Name is Paul Smith" touring exhibition.
Work on the project commenced last November, with the apprentices being tasked with replicating Smith's first shop, helping create a visual room themed around the designer's thoughts and providing joinery, electrical, painting and decorating skills.
City Building's supported manufacturing facility, Royal Strathclyde Blindcraft Industries (RSBI), provided the timber elements used to create the rooms, as well as a plinth used in the exhibition.
19-year-old apprentice painter and decorator, Lisa Murphy, from Glasgow, said, "It was really exciting to get the chance to work on the exhibition. I painted the plinth that Paul Smith's famous stripe Mini sits on, which is going to go around the world. I loved working on it – it really was the chance of a lifetime and an experience I won't forget in a hurry.
"We were all really excited to meet Paul. He thanked us for our hard work and signed all our overalls as a keepsake of the exhibition so we would have something to remember it by."
Cllr. James Adams, chair, City Building, said, "This was a great opportunity for our apprentices to showcase their skills in a different environment. They were all really engaged with the project and did an excellent job.
"The high quality job the team produced on this project is testament to their professionalism and hard work and I'd like to congratulate everyone involved."
Ian Elder, The Lighthouse, added, "It was a pleasure to work with the apprentices from City Building and give them experience of working in a 'live' environment. The feedback we've had so far about the exhibition has been nothing but positive and I'd like to thank the apprentices once again for their time and great work."
The exhibition is at The Lighthouse until 20 March 2016.