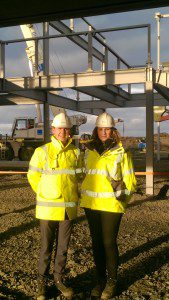 With National Apprenticeship Week beginning on February 29, school leaver, Annie Davies, is celebrating her apprenticeship with BAM construction. She has recently started work as a trainee site manager on the company's Waid Community Campus project, which, when completed, will be the new site of her former school.
Annie, who was deputy head girl at Waid Academy, in Anstruther, last year, commented, "I was indecisive about what I wanted to do and was in the process of applying for a full time university place when the opportunity with BAM came up and was too good to miss.
"I absolutely love it. I think it's a great opportunity and I would encourage pupils to seriously consider an apprenticeship."
Joining Annie is eighteen-year-old Jai Thompson, who has been appointed as trainee project surveyor.
Jai added, "I would definitely recommend an apprenticeship. You get the career you want without any of the debt and what you learn at university you get to put into practice on site the next day, not years later."
As well as gaining practical, onsite experience, both Annie and Jai are fully funded by BAM as part-time students at Napier University in Edinburgh, where they are studying Construction and Project Management, and Quantity Surveying, respectively.
Doug Keillor, regional director Scotland, BAM Construction said, "We have an active schools programme where we provide information to pupils highlighting the variety of career opportunities available in the construction industry and each year we offer pupils across Scotland the chance to take part in our apprenticeship programme.
"Annie and Jai were very enthusiastic in their interviews and demonstrated great potential. Since they have started on site they have shown a terrific willingness to learn and have fitted right into our team."