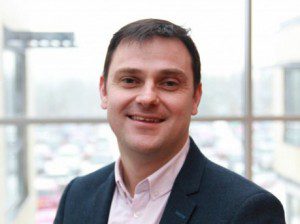 ROBERTSON has launched a new energy services division and named the company's first energy director.
Graeme Cameron moves from Serco to head up the new division, which will sit within Robertson Facilities Management.
Graeme led Serco's energy and sustainability business unit, delivering services to organisations including Coca-Cola, Deloitte and State Street Bank.
Robertson's energy management solution will include 'real-time' reporting services and the provision of investment to install energy efficiency technologies. The Group said that underpinning this will be a "savings guarantee tailored to deliver cost and carbon reduction objectives".
Ian Gibson, managing director, Robertson Facilities Management, said, "Graeme's appointment is very good news for the company. Robertson is already recognised as a leading FM provider with award-winning credentials for its positive impact on society and Graeme will help us take this work to the next level. His expertise will enable us to deliver class leading solutions to our clients as they strive to reduce costs and improve their carbon footprint."
Graeme Cameron, energy director, Robertson Facilities Management, added, "This company has been delivering valued energy services for a number of years and by enhancing our offering we will be even better placed to support our customers achieve their energy goals. Our considerable experience in FM, capital projects and construction provide us with the opportunity to truly understand our customer's energy challenges and unlock significant savings from their estate."