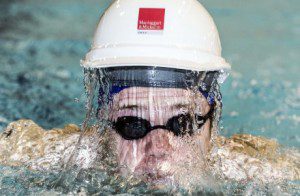 A leading Scottish Paralympic swimmer has signed a sponsorship deal with Mactaggart & Mickel Group.
Andrew Mullen (18) is an eight time European Champion and seven time World Champion, with two Paralympic Games under his belt. He is tipped to be a medal hopeful in the qualifying trials for the Rio 2016 Paralympics.
Andrew, who is originally from Glasgow, now has the backing of one of Scotland's top housebuilders. He said, "Being born and raised in Glasgow makes this backing from Mactaggart & Mickel Group all the more special and closer to home for me. Sponsorship is so vital to competitive athletes and the support is really going to help me as I aim to fulfil my dream of competing at the Rio 2016 Paralympic Games – I can't thank Mactaggart & Mickel Group enough for that and look forward to having them by my side over the coming months.
"With the final year of the Paralympic cycle approaching and Rio 2016 set to be the biggest Paralympics to date, it's a very exciting year in the world of sport. I want nothing more than to make the team and give my lifetime best performances so I can return home as a Paralympic champion."
Ed Monaghan, chief executive of Mactaggart & Mickel Group, added, "It's our privilege to support such a committed and talented swimmer like Andrew. We look forward to watching his progress in the run up to Rio 2016."