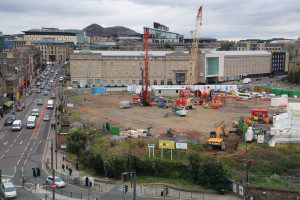 The availability of offices in Edinburgh has fallen to its lowest level since the 2008 financial crisis, according to new research by property consultancy, JLL.
Vacancy rates have fallen to 4.8%, and JLL is "forecasting supply to remain tight, if not critical, until 2018", according to a spokesperson.
The lack of space in the city is primarily due to record levels of demand and take-up in the last two years. Recently published research by JLL showed that, in 2015, Edinburgh posted the highest take-up of office space since 2001. Also, in the last four years, over 800,000 sq ft of office accommodation has been lost to alternative uses, such as residential and hotel conversions.
Cameron Stott, director, JLL in Scotland, said, "We've been saying this for years, but the availability of office space in Edinburgh is now reaching a critical stage. This is not simply a property issue. The lack of supply threatens to stifle economic growth in the capital, by simply not being able to accommodate any expansion from within Edinburgh's existing business community or any growth from start-ups.
"This, in turn, will have a serious impact on any employment growth prospects and inward investment in the city. Given the growth we've witnessed in recent years from Edinburgh's thriving technology and financial services sectors, we need to build upon these opportunities and provide the infrastructure in which these businesses can grow and thrive.
"For that to happen, Edinburgh must address the challenges of developing new offices in the city in terms of planning, funding and preventing the conversion of existing offices to alternative uses."
New office developments, including the Mint Building at St Andrew Square, are not scheduled for completion until late 2017. However, the recently completed refurbishment of 40 Torphichen Street should relieve some demand in the short term.