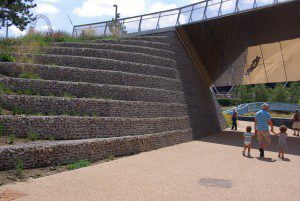 The humble gabion has come a long way since its introduction in the late 1900s. Here, Project Scotland takes a look at this simple building system which has found widespread use in construction projects the length and breadth of the country. 
OVER the last century, gabions have developed into one of the most versatile and flexible construction systems available, with a proven track record in applications varying from ground reinforcement through to high value architectural projects.
Although used by the Egyptian and Roman civil and military engineers to control rivers and form defences, modern gabions originated in Italy and were invented by the parent company of Oxford-based geotechnical specialists Maccaferri. In colloquial Italian, Maccaferri literally translates as "worker of iron" and directly relates the company to its wire-working heritage.
Maccaferri has held the original gabion patent since the 1890s and is the world's biggest producer.
Today's Maccaferri gabion is a rectangular wire mesh box, made from double twisted hexagonal mesh of steel wire which is then filled with stone. A simple concept which has stood the test of time and which has changed relatively little over the years.
Gabion walls made from double twisted hexagonal mesh are durable, flexible, aesthetically pleasing and in the construction of engineered structures, carry BBA Roads and Bridges Certification with a recommended design life of at least 120 years, when the units are heavily galvanised and polymer coated.
Maccaferrri say it is widely accepted throughout the industry that double twist mesh units are most suited to 'engineering' applications such as taller retaining walls, situations where high loads are involved, in all applications involving water (channelling and hydraulic works) and where differential settlement is suspected. Welded wire mesh gabions offer a different aesthetic and technical performance more suited to architectural applications.
INFRASTRUCTURE
Here in Scotland, the recently opened Borders Rail link made extensive use of gabion retaining structures to help in the widening, upgrade and re-development the line.
Maccaferri's stone-filled wire gabions form retaining walls to strengthen cuttings and embankments where the old single track line has been widened to accommodate twin tracks and maintenance access walkways, etc.
In the roads sector, contractors widening the trans-Pennine M62 Motorway also drew on the system's mass and flexible, free draining composition to create huge engineered retaining walls.
ENVIRONMENTAL CONTROL
At the recently opened Energy from Waste plant at Hykeham near Lincoln, designers Arup devised a network of water attenuation lagoons to collect and return rainwater run-off from buildings and hardstanding to nearby water-courses.
Maccaferri was engaged to provide a construction solution for the lagoons and proposed a combination of its Bentomat reinforced geosynthetic liner together with 2.0m high retaining walls to surround a 35m long, storm-surge lagoon and a dispersion lagoon, measuring 100.0 x 10.0m.
The near vertical gabion walls helped maximise the holding capacity of the lagoons within a restricted footprint area.
COMMERCE AND RETAIL
The new St Stephens Place Leisure Park in Trowbridge, Wiltshire is a £90m development comprising a multiplex cinema, an 80-bed hotel and a network of retail and restaurant outlets sited close to the centre of the County Town.
The development's south facing facades, flanking both sides of an impressive stepped terrace incorporate 260 sqm of thin-walled [300mm deep] Gabion cladding.
Built by Maccaferri Construction, the company's specialist installation subsidiary, the gabions contain over 130 tonnes of hand placed sandstone and create a stunning link between the green riverside landscape and the hi-tech glass facade of the cinema building and adjacent hotel.
HOUSEBUILDING
Good quality land for housebuilding is becoming harder and harder to find. As a consequence, housebuilders have been forced to find ways of using more brown-field sites as well as land that was previously felt to be at the margins of usability – particularly steeply sloping sites that need considerable re-profiling before being viable.
The introduction of gabion retaining walls can allow major contour modifications with the creation of flat engineered terracing on which houses can be built.
When used in combination with geosynthetic reinforcing geo-grid, they can create reinforced soil structures of immense strength and durability.
RECREATION
The 2012 Olympics Park in London used Gabions to spectacular effect in both cladding and structural applications.
In particular, the Central Park Bridge at the heart of the site. This was originally conceived as two permanent bridges linked by a narrow diagonal span over the Carpenters Lock complex on the River Lee. During the Olympics, a central, temporary infill structure between the bridges was incorporated to accommodate the huge crowds.
In the post-Olympics legacy park, the infill was removed to create two bowls on either side of the lock, thereby linking the upper park concourse with the lower level of towpaths and waterways.
Designed by architects Heneghan Peng, the structure incorporated finger-like arrays of welded wire gabions to the terraced wing walls as well as gabion cladding to the bridge piers that support the mirror finish bridge soffits.
The gabion walls were built using recycled concrete waste as the cage in-fill material.
In other areas of the park, gabions were used in the construction of several other structures; some artistic and spectacular, some solidly functional, but all clearly displaying the outstanding versatility of the system.
DESIGN & SPECIFICATION
Recent significant changes to the specification of gabion and wire mesh units occurred with the release in 2013 of the new EN-10223:2013 normative.
Maccaferri advises that clients should ensure their designers are not only specifying gabion materials produced in accordance with EN 10223:2013, but also in compliance with the Construction Products Regulation (CPR) 305/2011.
The purpose of the CPR is to ensure reliable information on construction products in relation to their performance, by providing a common technical language and standardised assessment methods of the performance of the materials. Benchmark evidence of compliance should be provided by the manufacturer, that their units are CE Marked according to ETA-09/0414.
Reputable gabion manufacturers can provide current certification to the client, ensuring peace of mind that what the client specified and expects on their projects, is actually built into their projects.