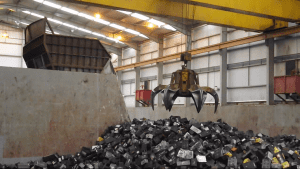 By Steve Reynolds, national specification manager at Envirolead
LEAD'S heritage as a product at the heart of UK construction is beyond doubt and its place as a roofing, flashing, rainscreen and heritage material is secure.
Perhaps surprisingly, around twice as much material is now used in contemporary architecture and housebuilding as conservation and restoration. For all types of project, however, long design life, sustainability and lead's malleability have combined in its favour, enabling it to be used for the most intricate detailing and decorative ornaments.
Lead enjoys an enviable record in terms of recycling and embodied energy, so much so that it has a BRE Green Guide A+ rating. Even so, in terms of the route to market for rolled lead sheet the existence of a British Standard, BS EN 12588, means that supply and procurement has traditionally been commodity driven. However, while the Standard provides a defined measure of quality, it doesn't differentiate between the source of raw materials or proportion of recycled material used.
Scrap lead recovered from building projects is straightforward to recycle, but the process is more complex in other industries. This is particularly so with car batteries for which, though disposal facilities are becoming more widespread, the economics of lead's extraction are far less favourable. To put some perspective on the problem, lead accounts for 58% of a battery but around 80% of lead produced worldwide is used in their production. Building projects account for just 6%. Traditionally, therefore, the tonnage of unrecoverable material sent to landfill has been and seemed set to continue to pose a huge problem for local authorities.
Thankfully, this need no longer be the case due to an initiative by Envirowales, a 2IM Group company which not only reuses lead from batteries but recovers around 96% of their constituent parts. These include its casing and electrolyte fluid (mainly sulphuric acid), the 'splitting' process extracting metal solids, sulphurised paste and polypropylene leaving only polyethylene which accounts for around 4%. This too is the focus of a research programme to find a viable means of re-processing. For the rest, desulphurisation enables sodium sulphate salt to be extracted for use as a bulking agent in detergents, glass manufacture and even animal feed under a Feed Materials Assurance Scheme (FEMAS).
With the high demand for products in construction which demonstrate high sustainability 2IM and Envirowales have taken the unprecedented step of marketing the 'Envirolead' brand as a specifiable product. It carries all of the benefits of standard rolled lead and is manufactured no differently but, critically, it has an unprecedented chain of custody and no reliance on ore extraction. This gives architects an opportunity for the first time to capitalise on the one of the most efficient forms of recycling while guaranteeing that the product chosen has the lowest possible environmental impact. The scale of extraction is large – in a five day week we process 300 tonnes a day.
Reclaimed material along with mill waste and scrap is smelted and refined before being cast into slabs. The resultant slabs are rolled into Envirolead and supplied to a nationwide network of builders and roofing merchants through 2IM Group distribution centres, Associated Lead Mills Ltd and Jamestown Metals Ltd. Additionally the Group provides lead for use in batteries, construction, and through its engineered products division Royston Lead specialist applications.
Royston products include anodes for the mining industry, radiation shields in the nuclear and medical environments, ballast for offshore applications and air gun ammunition as well as the more usual cast materials and window sash weights.
Recycling of lead enables the metal to be produced using only around one third of the energy needed to produce from ore. Around 20% of existing demand is still supplied as new lead but car production worldwide is forecast to continue its upward trend so current energy saving projections is likely to be exceeded.
Specification clauses for Envirolead are already available through NBS Plus and a RIBA Approved CPD presentation has been produced to highlight the benefits of specifying lead manufactured exclusively from such a tightly controlled resource.
A RIBA Approved factory tour of the recycling plant is also available upon request.
With an almost limitless supply of batteries for re-use, the supply chain for lead's use in construction is set for a major and what seems likely to be permanent shift for the benefit of the environment.