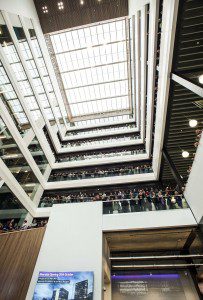 Scotland's Transport Minister, Derek Mackay, recently met with engineers and maritime professionals during a visit to City of Glasgow College's new Riverside Campus.
Speaking before the event, City of Glasgow college principal and chief executive, Paul Little, said, "As an industry-leading college, we are immensely proud of all that we have achieved so far in redefining technical professional and indeed college education. Our new state-of-the-art maritime education and training campus, with its first class learning and teaching facilities, is proof positive of our commitment to delivering a benchmark for international nautical and engineering provision in the heart of Glasgow.
"I look forward to showing the Transport Minister around Riverside and to discussing the vital role our college continues to play in the development of a world-class skilled workforce for Scotland. I am sure that Mr Mackay will recognise that our college is delivering real positive change for Glasgow, for Scotland, and on a world-wide scale."
Minister for Transport and Islands Derek Mackay said, "Having a new world-class nautical training facility in Glasgow is a fantastic development for the city, promoting and encouraging the next generation to consider the many excellent and varied career opportunities available in the maritime and engineering industries.
"The new campus will ensure that students develop the skills and knowledge needed to meet the demands of employers, better preparing them for the world of work, and I'm delighted to get a chance to visit it myself and see some of the training taking place.
Minister Mackay added, "The Scottish Government is keen to continue to work closely with City of Glasgow College and the maritime and engineering sectors to explore further ways of promoting the opportunities available within those industries."
The £66 million campus was opened by First Minister Nicola Sturgeon in October and features state-of-the-art, specialist facilities including a working ship's engine, cross-discipline project bases to encourage blended learning, an innovative multi discipline engineering hall, and a ship's bridge simulation suite.