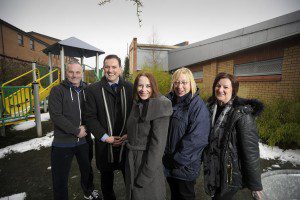 Stewart Milne Group has announced the winners of its RUBY campaign.
The campaign was launched last September with the purpose of improving community spaces in Scotland and north-west England.
A disability resource centre in Castlemilk in Glasgow and a park in Bridge of Allan are now both set to have play equipment upgraded.
The Castlemilk centre, which is operated by Caring Operations Joint Action Council (COJAC), was the overall winner from the four shortlisted schemes, receiving over 1,300 votes via public vote and social media.
Stewart Milne Group have also pledged their support to the Bridge of Allan project, which came second, following a high level of public support and votes.
Jonathan Fair, managing director at Stewart Milne Homes Central, said, "Our RUBY campaign has received a great response from the public and we were able to shortlist four very deserving causes. We are thrilled that we are now going to be supporting the upgrading of the playpark at Castlemilk and we know that it will have a massive impact on the lives of both the children who use the centre and the wider community.
"The number of votes cast across the central region highlighted a huge amount of support for community projects in the area. Therefore we have taken the decision to also support the Bridge of Allan project, which came second in the voting. Both projects galvanised a lot of public support and we are looking forward to working with the communities to realise their plans."
Angela Friel, interim centre manager for the disability resource centre in Castlemilk, said, "We are really happy to have received so much public support and would like to thank everyone who voted for us. The play area is used by children affected by disability who use the centre and local childcare groups, schools and nurseries throughout the year so the support from the Stewart Milne Group to upgrade it is going to make a real difference to a lot of people."
Ailsa McLeod, secretary of Bridge of Allan Community Council, said, "We are delighted to have secured the support of the Stewart Milne Group's RUBY campaign. We are a very active Community Council and have been working with the local community to identify what upgrades they'd like to see to the play equipment in the local parks. Moving ahead with the project will benefit a lot of children, parents and carers in the town."
Keith Geddes, chair of Europe's largest greenspace initiative, the Central Scotland Green Network, and member of the Stewart Milne Group RUBY judging panel, said, "The new play area at the Castlemilk centre and the improvements to the play park at Fountain Road Park will provide valuable resources for local communities to enjoy and will encourage healthy outdoor learning and natural play for children."