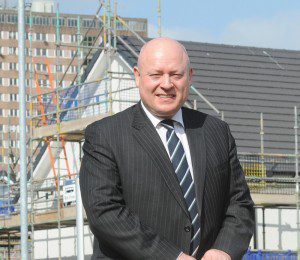 OUTPUT in the UK construction industry fell by 0.5% in November compared with October 2015, according to new estimates by the Office for National Statistics (ONS).
The ONS said all new work was the "largest contributor to the fall", decreasing by 0.7%, with repair and maintenance  falling 0.2%.
Within new work, there were increases in public other (2.3%), private industrial (1.7%) and total housing (0.9%). However, these were offset by decreases in infrastructure and private commercial work of 4.3% and 1.5% respectively.
Despite the figures, leading figures from the Scottish construction sector say they're not too downhearted.
Allan Callaghan, managing director of Cruden Building & Renewals, said, "While these figures are perhaps disappointing giving the slight rise in last year's figures, those operating north of the border will not be too disheartened. I have always argued that while these figures are an important marker for sector output and operations, taking a wider viewpoint of the sector as a whole by listening to those on the ground will always be my preferred option."There is a real feeling of positivity and confidence from operators north of the border which has been building over the last few months. We ourselves have a wide range of activity across all areas of Scotland, but most notably in the west coast. Demand for our offering remains high and we look forward to bringing a new development to market in the next few months which will go a long way in supporting Glasgow's housing requirements."2016 can be viewed as a real year to change, further diversify and make sure Scotland's construction offering continues to meet the needs of the Scottish people. I have every confidence that it will."
Gordon Reid, business development manager for Kier Construction in Scotland, echoed those sentiments. He said, "While it would have been nice to start January with a positive set of figures, you only need to look at the fluctuating pattern of releases over the past few months to see that we shouldn't be too disheartened. The one constant is the ever-changing nature of the construction sector.
"The positivity and confidence have long been here in Scotland and this year may very well be the 12 months where market requirements and sector offering come together to support consistent growth. All those operating in construction will of course hope that they do, as the sector continues to play its leading role in the economic recovery."