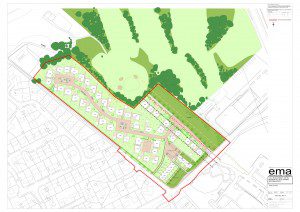 A new housing development in Bonnyrigg has been given the green light, in a move that will safeguard the future of a historic and popular golf club.
The CALA Homes development will see family homes built on land currently used as a practice area at Broomieknowe Golf Club.
The plan was strongly supported by both Midlothian councilors and the golf club.
Derek Lawson, land director at CALA Homes (East), said, "This is a very important development for us, having taken many years of community consultation and careful design.
"So we are delighted at this decision by local councillors, who have proven very understanding of the project. This decision will bring real benefits to the local area, not just in improving prospects for a much loved golf club, but in addressing a shortage of family housing and financing improvements to the local infrastructure.
"We also would like to thank the surrounding community of Bonnyrigg, who have engaged positively with us. Thanks to that feedback they let us know they wanted access from Eskbank Road, which our plans adapted to include.
"It was very important to us that these plans were passed at the local level, as opposed to an appeal to the Scottish Government. It reflects local views and opinions, and sets a clear direction for communities."
Broomieknowe Golf Club captain, Stuart Brown, said, "After many years of working closely with CALA Homes, the Club is delighted by Midlothian Council's decision to grant planning permission for the residential development of our practice ground.
"The sale of the land to CALA will underpin the financial future of Broomieknowe and enable us to carry out much needed improvements to the clubhouse facilities as well as enhancing the golf course."
The plans for 42 detached homes, eight cottages and six terraces, with work set to start in the summer.