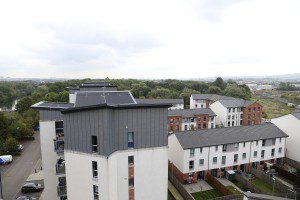 A much-lauded regeneration project in Glasgow is benefiting from technologically-advanced materials to deliver modern performance as well as design.
At the heart of the plans in the Gorbals area of the city is the creation of over 1000 new homes at Richmond Park, a development by housebuilder Bett Homes, which includes construction of six-storey blocks.
To achieve a modern look, Bett Homes has opted for  Protan's SE1.2mm single ply membrane on each of the blocks with 'flat' roofs.
Hot-air welded at the joints and mechanically fixed in place by roofing contractor JMS, the Protan membrane is detailed with omega profiles to give the impression of a metal standing seam roof.
Designed to cope with extreme weather conditions, Protan says its SE membrane achieves durability "for at least 30 years".
Additionally, air leakage is controlled in line with the latest Building Regulations.
Malcolm Crawford, Bett Homes' project architectural technician, said, "Protan SE membrane gives us continued aesthetics and clean roof lines to coincide with the modern look of the development, which has a contemporary take on the Scottish style of architecture.
"We use Protan whenever we are building flat roofs because of its proven performance, customer support and value for money."
Martin Shave, Protan domestic business development manager, added, "Modern single ply membranes have come a long way form the traditional flat roofing felts of a generation ago.
"Today, there are PVC roofs that have been in place, without detriment for 35+ years. Single ply membranes help deliver the energy efficiency requirements laid down in Approved Document L, and, under the Green Guide, achieve a A+ rating.
"Properly installed, there will also be fewer potential site remedials/ snagging than with a tiled roof with mortar-bedded ridge and eaves."