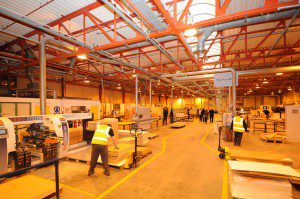 A Glasgow factory where more than half of its 240 employees have a disability is celebrating a special milestone this year. Royal Strathclyde Blindcraft Industries (RSBI) has been designing and manufacturing everything from timber kits and windows to kitchens and student accommodation at its Springburn base for exactly 30 years now.
RSBI is the manufacturing division of City Building and is owned by Glasgow City Council. Although operated by City Building, RSBI is a distinctive organisation and operates all over the UK. The organisation boasts one of Europe's largest supported employment facilities for people with disabilities and learning difficulties.
The workforce includes individuals who are partially sighted, hearing-impaired or require a wheelchair. Some employees are former soldiers who returned from war zones with post-traumatic stress disorder or struggled to adapt to life on Civvy Street. Other workers were long-term unemployed.
As well as being a highly successful social enterprise, RSBI has been an outstanding commercial success. The organisation has a £27 million turnover and profits are invested back into the business in the form of jobs and machinery.
Factory manager Peter Jupp and deputy manager Ben Kerr are justifiably proud of RSBI's achievements and say most visitors are pleasantly shocked at what they find when they tour the factory.
Peter said, "The factory is purpose-built for people with disabilities. We have different handrails to help visually impaired workers move around and there's a lot of good machinery available now for people with disabilities. We even have dog kennels in an area we call the Ritz. Someone looks after the guide dogs. Not a lot of places have that sort of facility."
Ben added, "We manufacture beds, suites, kitchens, office and school furniture, timber frame houses and bespoke furniture for student accommodation and care homes.
"We have our own in-house design team and provide clients with a one stop shop – working with them from initial concept through to installation. We also make a range of soft furnishings. Because we can achieve that one stop shop approach, clients invariably are very happy with the end result and want to use us again and again."
The business has been involved in a number of high profile projects over the years for customers including Glasgow Housing Association, RNIB, local authorities and fire boards. Peter explained, "Everybody believes Glasgow City Council just gives us work but we're a UK-wide organisation. We manufacture between 100 and 150 kitchens a week and fully furnish about 30 houses in that time – wardrobes, bathrooms, carpets. We have something like 17 carpet fitting teams. We also make 200 windows a week and we've just embarked on aluminium curtain walling.
"We have a look at what City Building work is available. A current City Building project is the 4Rs education programme – we do all the windows and curtain walling for those schools, However, we also tender for work outwith City Building."
Ben said, "We have to go through the same tendering process as everyone else. One of our biggest projects was providing in excess of 500 student rooms for Aberdeen University over a couple of different phases. They were so happy with the work we did that Robert Gordon University called and asked us to do work for them because the quality was so good. We also recently worked on accommodation at Strathclyde University.
"We've been involved in a few housing projects, delivering five or six timber kits a week. As well as City Building, we supply other builders with kit to build houses."
The commercial success of RSBI is something which comes as a surprise to some. "We're a £27 million turnover company," Peter said. "Our main aim is to break even. We're always evolving. When we saw the kitchen market starting to die away, we looked at curtain walling and windows.
"Retail sales are up too. Two years ago, we had about £50,000 of retail sales. This year it's about £200,000. That's through word of mouth.
"The biggest compliment we got was up in Aberdeen on our first attempt at doing student accommodation. We looked at every angle, planned it all, delivered it all and the sub-contractor on site said 'You guys are Ronseal'. When I asked what he meant, he said 'You do what you say you do on the tin!'
"There was no snagging, no hiccups, it was delivered on time. He said he didn't need to be on site for our guys. The standard was absolutely amazing. That reputation has taken us as far south as Cambridge.
"People ask why we don't just stick to the central belt in Scotland but we're good enough to look further afield. We haven't let anyone down yet. The big success with this place has been succession planning."
Ben added, "We're slightly different from other manufacturing companies in that we're not all about the profit. We have certain functions in here which could be carried out by machinery but rather than doing that and making more profit, we're about providing jobs for people. We would rather employ two people than spend money on a new machine.
"If one area of the business starts to fizzle out, it's not a case of making people redundant. Our employees are all cross-trained and on the same salaries so we can find something else for them."
"What RSBI is all about is getting people with disabilities into work," Peter added.
"Over 52 per cent of the people in here have a disability. We've taken on employees with dyslexia, mental health issues, soldiers returning from Afghanistan with post-traumatic stress and limbs missing. We work closely with Glasgow's Helping Heroes. We also have employees who are blind or visually impaired, and people in wheelchairs.
"When we take visitors round the shop floor, we don't point out people's disabilities. I'd be very surprised if anyone noticed the ones with disabilities."
"Perhaps the biggest compliment you can give our staff is that, through time, you forget the disabilities," Ben said. "At the end of the day, they're employees like everyone else.
"We have a whole host of people in here with great attitudes. We have guys in wheelchairs who come in laughing and joking. You couldn't argue if they felt sorry for themselves but they come in and their attitude is great.
"People are surprised, not only because they don't notice the disability factor, but also by the amount of products and the quality of products. The place sells itself well. One of our big marketing tools is inviting people in here. We take them round the factory, let them see what gets done and clients are suitably impressed."
RSBI also work with school pupils, dozens of whom are invited into the factory to undertake an SVQ in performing manufacturing. Ben said, "We currently have about 35 kids from 15 schools. The school programme is of great community benefit. A lot of these kids with disabilities think 'Where do I go? What's my future? Where will I get a job? Who will employ me?'
"At times their confidence is very low. When they come here to start with they sometimes won't make eye contact or talk to people. By the time they leave, they're a totally different person.
"It's about coming to work every day, integrating with people, taking instructions, learning how to do things. It's great for them to see how people with similar difficulties to themselves are actually working fine. It gives them hope.
"We take quite a few of these kids on as full-time employees. In the past year, three people who came here as schoolkids have became adult apprentices. These were kids who thought they had no real futures."
Peter added, "We get young kids who are maybe not going to get good grades in school. Sometimes the blind stick with the blind and the deaf stick with the deaf. The first thing we do here is bring them together. They learn to interact and learn new skills like how to use power tools and how to talk to somebody else outwith their disability."
"There's an opportunity for career progression here," Ben explained. "City Building in general likes to promote from within where possible. That gives people something to work towards. They know if they do well enough and work hard, the opportunities are there. We're also about giving people time to go for further education. We're always trying to up-skill people and allow employees to develop as much as they can."
During my tour of the RSBI factory, I was fortunate enough to meet Billy McDonald, who has worked there for 30 years. Billy has worked his way up to the role of chargehand, looking after a team of employees working on kitchens. He told me that, as a result of RSBI, he's now a homeowner and has a good life.
"The world has changed in the way people look at disabilities," Peter added. "If these workers were on the dole, how much does that cost society? People like Billy, who is fantastic at his job, have the same rights to holidays and mortgages as everyone else.
"We don't have zero hour contracts. Our workers can plan for their futures. Having a platform like this place allows people to have pensions, they can see a career path in front of them.
"They know they're contributing back to the community, which is more important than anything. We're given them an opportunity and they're grabbing it with both hands."