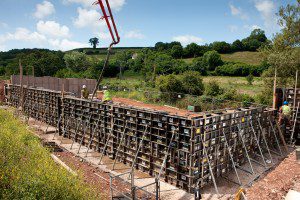 For over 50 years Mabey Hire, a nationwide supplier of non-mechanical plant equipment, has been supplying a diverse mix of construction clients with engineered modular and proprietary temporary works equipment for ground support, formwork, falsework and many more systems – all supported by skilled engineering teams.
Mabey Hire operates three depots in Scotland and has supplied kit to many of the most high-profile construction projects north of the border.
Project Scotland's Fraser Rummens sat down with three key Scottish-based members of the company – Jimmy Stewart (sales director), Stephen Hughes (business development manager) and Craig Reid (regional engineering manager), to discuss their work, thoughts on the industry and aims for the future.
Q) WHAT MAJOR PROJECTS HAVE YOU SUPPLIED EQUIPMENT TO?
Stephen: We've supplied a large section of equipment to the Shieldhall Tunnel, which is a major project in Glasgow just now (SEE PAGE 34). It's covering from the south side of Glasgow right through to Hampden Park area. They're building an underground tunnel so there's a big section there for the actual boring machine to enter into the ground, so we've got some kit on there. That's probably the biggest one.
We've got substantial equipment on contracts such as AWPR (Aberdeen bypass). We're dealing with the new M8 that's going on round about us at the minute. Major projects such as the Forth Road Bridge – we've had equipment on there with various contractors. Whenever we see a big project in the country, we tend to be a very well quoted source of equipment.
We've built a big extension at Hunterston power station. We've been on that from start to finish – the subsea cable that's going from Hunterston to Connah's Quay. That project is about three years and we've been consistently on that with most people and the reason we get on it is because we offer good stuff and we've got great engineering backup.
Jimmy: It is an engineered solution, so you've got the two-stop shop here. You've got people that will just request kit which we would call a 'shopping list' – they know what they want, they can come in, it's your traditional non-mechanical plant. Then you've got your engineering solution.
Craig: We've got a team of five engineers in Glasgow; the reps bring in the engineer and give temporary works designs to the customers to satisfy their requirements onsite.
Jimmy: Health and safety is such a big part now. Not only the client, but also the contractor, needs to know that they're doing the temporary works in a safe environment. Everyone's safe, from the contractor to the labour force, and also the public and the surrounding environment.
Q) WHAT ARE YOUR HOPES FOR THE NEXT YEAR?
Jimmy: We have been a supplier to Scottish Water since October 2008. We're the framework supplier of trenching and shoring equipment. That means Scottish Water, or any contactor or sub-contractor working with Scottish Water, have to come to us as a framework supplier. So, we would hope to stay involved with Scottish Water and hopefully they start spending more, and they will, because it's now going into their next phase, which is called SR15 (Scottish Water's six-year investment programme). There's a lot of renewables going on, a lot of energy work – a lot of pylons, power lines, gas power stations.
Craig: A lot of wind farm projects, hydro schemes; especially up north, you get a lot of hydro schemes where the estates are getting grants to fit them.
Jimmy: Glasgow is our main depot but we also have one in Aberdeen and one in Inverness so that we can capture the whole market in Scotland from any of our three locations.
Q) HOW ARE YOU FINDING THE SECTOR AT THE MOMENT?
Stephen: I think it experienced a wee bit of a dip but I think it's starting to level out and come back up again. It's very competitive; I think you'll find that there are a lot of people chasing the same work. But I think it's a measure of this company that we seem to be winning most of the bigger projects that I mentioned earlier on.
I would hope next year that the market would maybe start to catch up with the English market, which I think has been better. Scotland tends to catch a cold later and get rid of it later, so other parts of the UK have maybe had it a wee bit better than Scotland.
Craig: That's one of the benefits of having regional engineering offices. We've had a bit of a downturn the last year but we've been able to help the other offices in the south of the country, so we're still busy. When the work starts to pick up in Glasgow again, we're here to pick it up.
Jimmy: We were last affected by the recession. It started down south, four or five years ago, and then it worked its way up and as Stephen says, we're the last to recover from it. The two main factors that have slowed down the recovery were the independence vote and the General Election. Those two, on the back of each other, slowed the industry right down.
The housing sector is booming. There's not a lot getting spent on infrastructure, so we're hoping that spend does increase.
Stephen: I think one of the markets that you've seen a change in is the transmission market. In England, they've upgraded most of their transmission and power lines and they're just really starting to hit that up here. Beauly-Denny was a big line that was well publicised, but there are other ones we hope are in the pipeline.
Q) IN TERMS OF GROUNDWORKS EQUIPMENT, WHAT IS POPULAR AT THE MOMENT?
Craig:  Probably mid-range sized frames. We do frames from 3x3m sq, up to 25m or 30m sq, but it really seems to be the stuff from 8m to 10m at the moment that are the most popular in the sheets and frames. Boxes are always popular.
Jimmy: Trench boxes, your traditional shoring is always popular, from trench boxes to sheets and hydraulic walers. The larger equipment goes with the larger spend which is from the larger companies, such as Scottish Water.
Q) ANY NEW PRODUCTS?
Jimmy: We've just recently launched an aluminium hog-back strut box, which is proving popular with the rail sector and their contractors. Other innovative products are all based around health and safety.
Where else we diversify is the likes of matting, formwork and falseworks. We're not purely groundworks, and some of the formwork falls on the back of your traditional groundworks – and that's all designed by Craig and his team.
Craig: In the last two years, BIM has been a massive step forward with the company and we are a leading company with BIM now. Our kit has been modelled in the software so we can offer this to the customers as well, to help them build their models and it seems to be taking off big time.
Q) WHAT ARE THE BIGGEST CHALLENGES THE COMPANY FACES?
Jimmy: The biggest challenge is to continue growing, to continue looking for innovative products. We want and we wish and we desire to work with clients to come up with innovative products which currently are unavailable in the market and the only way we are going to develop these is working closely with clients.
If they say to us 'we could really do with X, Y or Z', we've got a development team that would work with them to develop these products. So, these are the challenges – year on year growth, remaining the market leader within Scotland and just trying to evolve into every sector we can.
It's difficult not to get involved in a price war, whereas what we are offering is an engineered solution with quality kit, quality service, delivered by our five wagons.
We've got five of our own internal hire wagons, all with our own experienced drivers so that we don't rely on external hauliers.
Our drivers know the kit, they can identify it, they know what they're collecting. They build up the rapport with the people onsite.
Also, within here, we have a piling attachment services division. We supply augers, pipe lifters and EMV hammers to install the sheets. Again, it's the one-stop shop; where we supply the sheets and frames, we supply the equipment to dry the sheets. We provide the full range of equipment.
We will also engage early doors with contractors, at tender stage so that when they're putting in their tender they know they're putting in the best solution to their client and we'll also work with their clients as well. It's all about early engagement with the contractor.
Q) MOST MEMORABLE PROJECTS?
Stephen: The one we did in Stranraer for MWH, which was an excavation in Solway Bay.
It was to deal with tidal flow, it was the final section of an EEC directive that came out in 1998, so they've got around the whole of Europe and this was the last one to do. It was a major challenge on engineering, it was a major challenge on getting the right equipment, and again, the customer came to the right company because we had the skills to pull it off and it just looked great to see a big excavation in the Solway Firth. It looked fantastic; I just think it was a great project.
From start to finish, I think we looked after it really well and the client was really pleased. It was quite a memorable one; it was a good one for us.
Q) HOW CLOSELY DO ALL THE MABEY HIRE OFFICES WORK TOGETHER?
Craig: We've been doing a lot of work from Glasgow, in London. London seems to be very busy at the moment so we've been helping them out a fair bit. From the engineering point of view, we work very closely and the kit is readily available. If they need kit in London and we've got it available in Glasgow, then it's sent down there. It's national stock, rather than Glasgow stock.
Jimmy: We will deliver straight to site from here. Likewise, if we don't have the kit, it will be delivered from the south. We've recently invested £11.1 million in extra hire fleet wagons. Some of those are actually trunking vehicles, which will run during the night to ensure delivery.
Stephen: I worked with national businesses before I came here and they tend to go into their own wee kingdoms. You don't see that here. It's all for one and one for all. We all help each other out, which is quite good.
Q) HOW HAS THE INDUSTRY CHANGED SINCE YOU FIRST JOINED?
Craig: I first started with the company in 1999 and I'd go as far as saying that probably 80% of the kit that went out of here went out without any temporary works designs.
Now, the whole industry has swung, so probably now I'm guessing maybe 70% of the kit that goes out has a temporary works design of some sort. Whether it's done by the customer or done internally, here by ourselves. That's the biggest change I've seen.
Jimmy: Throughout the industry, from depot level, from site level, it's just health and safety driven. Health and safety is a huge issue now, which is very much our focus.
Also, would it be fair to say that the contractors put more onuses on us as well to come up with a solution?
Craig: Definitely, yes. They look at us as a consultancy, more than just plant hire now. Rather than just coming to us and saying 'we want an excavation this big, this deep', they'll come to us and say 'how can we install this? How can you use your proprietary equipment to help us do this job?'
It's not just groundworks. We do a lot of building refurb and that seems to be taking up a lot of time by going to site and help the customer solve his problems. It's because of our experience that we're able to come up with solutions that maybe they haven't thought of.
Jimmy: We work with the customer to come up with the most effective solution. It may not always be the cheapest but it'll be the most economical – it might take a bit longer to install but with less time actually in the ground.
Craig: I think as well that we can see health and safety issues and risks that the customer has not identified because we have the experience.
Maybe not so much with your main contractors, but certainly your smaller contractors often don't have temporary works departments and they rely on us quite heavily to help them with these projects, to carry them out safely.