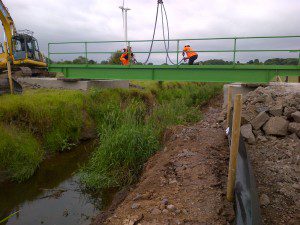 Groundforce Bridge has installed a 12.6m x 3.5m Mega Vehicle Bridge in just two hours to provide an eco-friendly solution for site traffic accessing works on a major road improvement scheme in Co Derry.
The Mega Bridge supplied to contractor BAM McCann JV is being used as part of the temporary works construction of a new 6km bypass on the A31 at Magherafelt, providing access for plant and machinery across a river facilitating a haul road.
At 3.5m wide by 12.6m long, this bridge is the largest within the Groundforce Bridge range.The firm says it is capable of carrying industrial plant and heavy vehicles weighing up to 110 tonnes.
The project is part of a road improvement programme by the Northern Ireland department of Regional Development. Once completed, it will reduce journey times along the A31 corridor.
The challenges facing the Groundforce Bridge team to meet the design requirements were multi-faceted.
The proposed crossing location required the Mega Bridge unit to span a river which is a vital conduit for migrating fish. A permanent bridge would have required piles driven into the river bed to support the body of the construction, causing huge disruption to the spawning fish and the wider population.
Groundforce Bridge say that because the Mega Bridge can be safely installed without disruption of this kind, it was the perfect solution. Alongside considerations for the local wildlife were those focused on the bridge itself, which had to be capable of carrying fully laden 40 tonne dump trucks.
To meet the client's requirements, bespoke modifications were required which included increasing the width of the platform to 4.0m to allow clear access for the dump trucks.
On the installation date the 12.6m bridge consisting of several component parts arrived on site at 10am from the local Lisburn depot on the back of a 40ft wagon. Using a long reach crane the components were lifted into place and assembled. By 11:50am the bridge had been installed and was ready for use.
Mark McCann, engineer at FP McCann said, "The service Groundforce has provided has been excellent and we would certainly consider using them again in the future."
The project is due to be completed in September 2016.