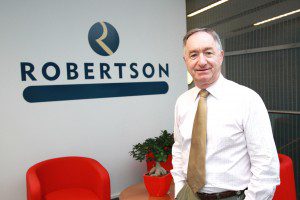 Robertson Group has reported a record turnover of £298 million (up 14%) and pre-tax profit of £11.77 million for the year ending 31 March 2015.
Turnover in the construction division rose 12% to £217.6 million. The Group said other highlights included adding civil engineering and business services to its portfolio, launching Robertson Tayside and increasing Robertson Homes sales by 78%.
Executive chairman Bill Robertson says the impressive results are the result of work undertaken over the past five years. He explained, "I believe our regional business model has been our strength in recent times, where each autonomous business can react to their own local markets in good times or bad and is under no pressure to grow unless good value can be gained from their workload. Following the end of PFI procurement our business has spent the last five years growing, developing and managing its way through a changing marketplace by using those skills learned in the previous 15 years of PFI work."
The Group employs over 1700 people in 18 businesses throughout the UK.
Bill Robertson added, "Many good companies were forced out of business as a result of the upheaval in the banking sector and some of those who survived either lost control or equity in their businesses. The recession which followed the banking crisis also impacted on the sector where companies were encouraged to trade at unsustainable margins hoping the recession would be short lived. And the recent spate of poor results from major UK construction companies hasn't helped the perception of our industry.
"Over 60% of Robertson Group revenue is generated from construction operations where margins, historically, have been low. There are fewer players in the market and more frameworks and opportunities to work on with clients and their advisers up front. There is a real opportunity to raise margin levels to more sustainable levels.
"Construction as a sector has gone through continual change over the last 20+ years where most major players in the industry slowly moved to becoming growth driven management contractors. The knock-on effect was these companies began operating at lower margins, directly employing and training fewer people and delivering major projects through a pool of growing subcontractors.
"Training and development of management and trade operatives hasn't kept pace with the market demands. We have taken proactive approach in investing in youth training and development, as we look to grow a talent pool for the future. Most companies now recognise this and many see a recovering economy as real opportunity to rebuild value and a creditable position in today's market."