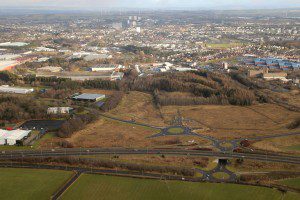 TEN Scottish communities could be in line for a major jobs boost after a Glasgow-based property development firm submitted a package of planning applications as part of a redevelopment of former Tesco-owned sites.
London & Scottish Investments Ltd (LSI) say the new developments are expected to create over 500,000 square feet of food and non-food retail space, resulting in thousands of new jobs.
The developments are planned for East Kilbride, Paisley, Crieff, Aviemore, Cupar, Cowdenbeath, Thurso, Kilmarnock, Dalkeith and Glasgow Springburn.  Local planning applications have been submitted – or will be submitted imminently – for eight of the ten sites.  As East Kilbride and Paisley are major developments, a 12-week period of statutory public consultation must be carried out before submission of a planning application. As this is now under way, detailed planning applications for these area are expected to be lodged in spring 2016.
A number of other sites acquired by LSI from Tesco in August 2015 are earmarked for residential development.  
Bryan Wilson, group development director at London & Scottish Investments said, "This package of planning applications is one of the biggest that Scotland has ever seen. The economic redevelopment of these vacant sites is fantastic news not just for the communities around them, but for the Scottish economy as a whole as we expect thousands of new jobs to be created as a result. 
"We are now in advanced discussions with a number of food and non-food retailers to occupy these developments and hope to be able to announce these in the near future. Subject to securing the necessary approvals, construction work is expected to start in spring and summer 2016."