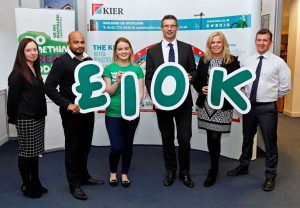 BIG-hearted Kier Construction employees in Scotland have raised more than £10,000 for charity.
The money raised will be donated via The Kier Foundation to Macmillan Cancer Support.
Kier Group and The Kier Foundation initially pledged to fund 4,000 nursing hours when the two-year partnership with the charity launched last year. However, with six months of the partnership remaining, Kier has raised £280,000, which is enough to provide more than 10,000 nursing hours, and could provide over five years of Macmillan nurse funding.
Brian McQuade, managing director of Kier Construction's Scotland and north-east England business, said, "We are pleased to have raised such a significant amount for a charity which does such good work for all those affected by cancer, and we hope that the funding will help support its efforts across Scotland."