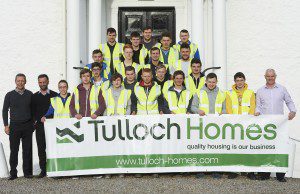 EIGHT new apprentices have joined Tulloch Homes as part of the firm's "grow your own" policy.
The housebuilder, celebrating its 90th birthday this year, now has 22 apprentices – the highest total since before the global financial crisis.
Chief executive George Fraser said, "We're delighted to further expand our 'grow your own' policy and the intention is to make additional apprentice recruitment in the first half of 2016. In addition to the apprentice intake, we have found success with a policy of training and creating new site managers from within our existing ranks.
"We're always keen to invest in Highland young people. That approach has served the business very well since it was started up in Nairn in 1925. It has also provided the skills and career opportunities for so many.
"The construction workforce in Scotland is a relatively ageing one and our strategy is to counter that by ensuring a pipeline of a steady stream of talent coming through. We think it's a very worthwhile investment."