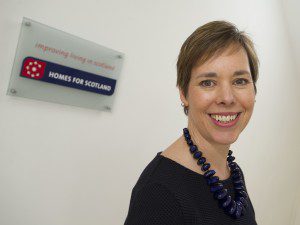 NICOLA Barclay has been named the new chief executive of Homes for Scotland (HFS).
Nicola, who is currently director of planning for the trade body, takes up her new post on February 1, succeeding Philip Hogg who is joining Bancon Group as managing director of its homes business.
"Never before has housing been so in the spotlight so I fully recognise I'm taking on this role at a pivotal time for our industry," Nicola said. "I believe that we all need to work together to deliver more homes of all types across the country and look forward to the challenge of achieving this over the coming months and years."
HFS said Nicola's career in the homebuilding industry spans more than two decades and covers a number of areas including sales, land and planning.
HFS Chair Jim Mather said, "We are absolutely delighted to have appointed someone of Nicola's drive and industry standing. Extremely well respected by both members and other stakeholders, she will bring fresh energy and insight to our work. This will ensure our members are best able to work with others and attract the necessary resources to deliver many more homes of all tenures thereby helping to improve the lives of thousands of people and the strength of the Scottish economy."