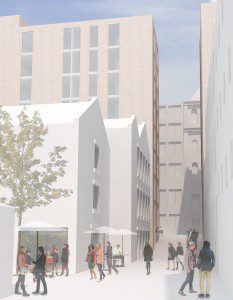 Initial proposals for a major restoration project located off Glasgow's George Square were unveiled recently.
The Chris Stewart Group intends to submit a planning application for a mixed-use development located within a city block, surrounded by George Street, John Street, Martha Street and North Frederick Street. The plan aims to reinvigorate the area by transforming seven disused properties, including two listed buildings, into a variety of uses.
A key part of the plan is the opening up of a lane that runs through the site, which would allow for pedestrian access and space for businesses.
A public exhibition was held at George Street, where members of the community had the opportunity to discuss the plans with the developers and architects from Hoskins Architects.
Chris Stewart, CEO of Chris Stewart Group, said, "This is an important site and we welcome all views as we shape our ideas and designs. We want to create a vibrancy for the area and intend to turn this derelict and run down group of buildings into a dynamic and lively new destination for the city. To do that, we are looking at a mix of new uses for the buildings; uses that we expect will deliver an economic boost for local traders, together with considerable benefits for local residents and visitors to the city."